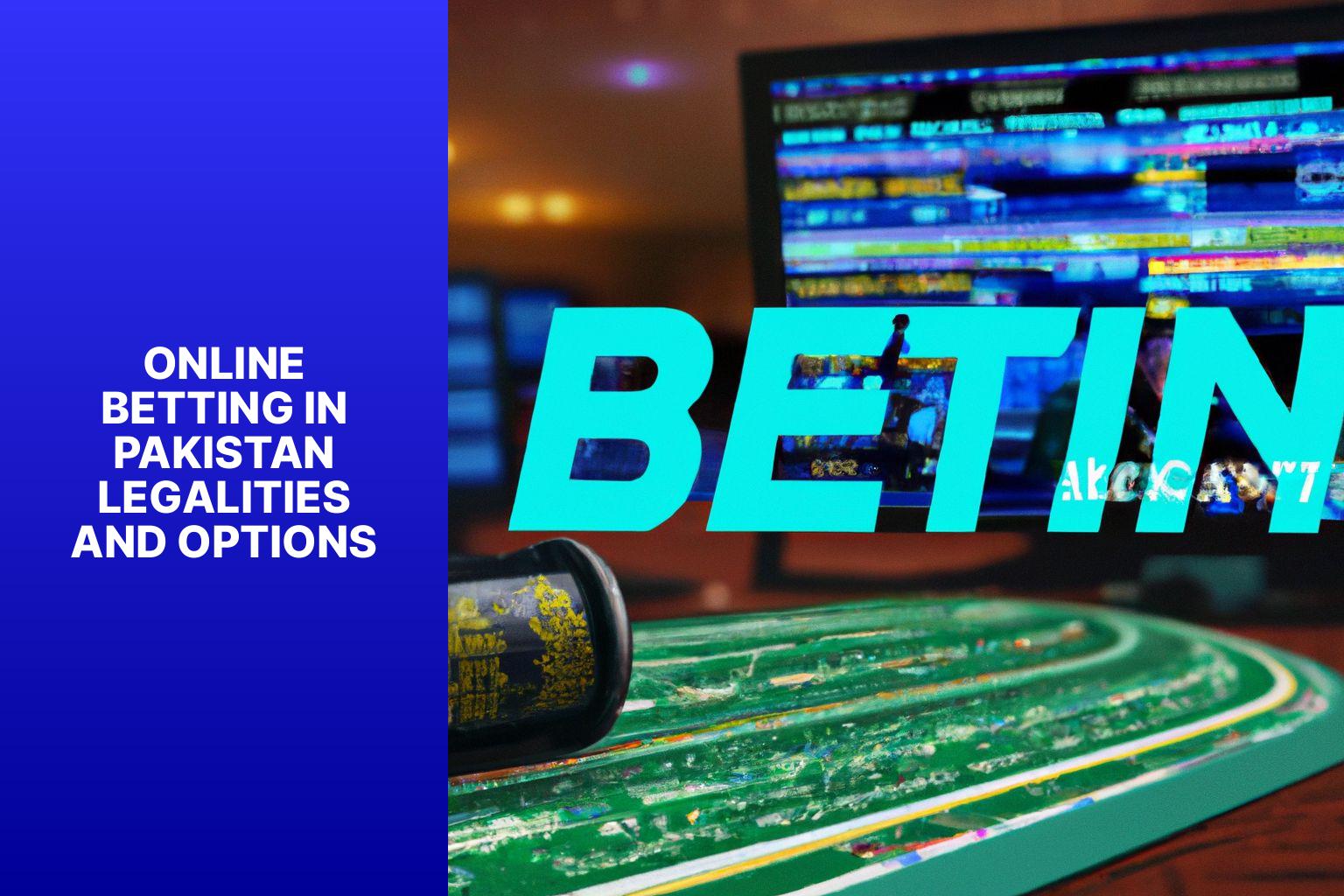 Online betting has gained significant popularity worldwide, and Pakistan is no exception. This article explores the legalities and options for online betting in Pakistan, ensuring a comprehensive understanding of the subject.
A pertinent question arises regarding the legality of online betting in Pakistan. It is essential to know that gambling in all forms, including both online and offline, is considered illegal in Pakistan. Islamic law in the country strictly prohibits any form of gambling due to religious beliefs and cultural norms. Despite the legal restrictions, there is a notable presence of online betting platforms catering to Pakistani bettors.
Despite the legal hurdles, several online betting options are available to Pakistani bettors. These include:
Sports betting remains one of the most popular forms of online betting in Pakistan. It involves placing wagers on various sports events, including cricket, football, tennis, and more.
Although land-based casinos are prohibited in Pakistan, some online platforms offer virtual casino games such as slots, roulette, blackjack, and poker.
Online poker platforms allow Pakistani players to participate in various poker games and tournaments, competing against players from around the world.
When engaging in online betting, it is crucial to ensure the selection of a reliable and trustworthy platform. Factors to consider include:
Choose platforms operating under valid licenses from reputable gambling jurisdictions, ensuring fairness and transparency.
Prioritize platforms that employ sophisticated security measures to protect personal and financial information, such as SSL encryption and firewall protection.
Opt for platforms that offer secure and convenient payment options, ensuring hassle-free deposits and withdrawals.
Customer Support:
A reliable customer support system is essential to address any concerns or issues promptly. Look for platforms that provide 24/7 customer support through various channels.
While online betting presents legal challenges, it offers several benefits to Pakistani bettors:
Online betting allows individuals to participate in gambling activities conveniently from the comfort of their homes.
Pakistani bettors can access a wide range of betting options, including various sports events, casino games, and poker tournaments.
Online betting platforms often offer promotions, bonuses, and loyalty rewards, enhancing the overall betting experience.
Despite the allure of online betting, it is crucial to acknowledge the risks associated, especially regarding responsible gambling:
Excessive online betting can lead to addiction and potential harm. It is essential to gamble responsibly, set limits, and seek help when needed.
The online betting market also attracts fraudulent platforms. It is crucial to research and choose reputable platforms to ensure a safe and secure betting experience.
The future of online betting in Pakistan remains uncertain due to the prevailing legal restrictions. With evolving global trends and changing perceptions, there is a possibility of regulatory changes in the future. It is crucial to stay updated with any legal developments and ensure compliance with existing regulations.
By understanding the legal status, available options, and potential risks associated with online betting in Pakistan, individuals can make informed decisions and engage in responsible gambling practices.
Key takeaway:
Online betting offers convenience: Online betting platforms provide a convenient way for individuals in Pakistan to engage in various forms of gambling, including sports betting, online casino games, and poker.
Legal status of online betting in Pakistan: Online betting is currently illegal in Pakistan, and individuals participating in such activities may face legal consequences.
Choosing a reliable online betting platform: When selecting an online betting platform in Pakistan, it is important to consider factors such as licensing and regulation, security measures, payment options, customer support, variety of betting options, and promotions and bonuses.
Risks and responsible gambling: Online betting carries risks related to addiction and problem gambling. It is crucial for individuals to practice responsible gambling and be aware of fraudulent platforms.
The future of online betting in Pakistan: The future of online betting in Pakistan remains uncertain, as the legal status may change over time. It is important to stay informed and follow any updates or changes in regulations.
Online Betting in Pakistan: Legal Status
Online betting in Pakistan is prohibited according to the country's laws. The Pakistan Penal Code and the Prevention of Gambling Act explicitly forbid all types of gambling, including online betting.
Engaging in online betting can lead to potentially severe legal ramifications such as fines or imprisonment.
To prevent citizens from taking part, the Pakistan Telecommunication Authority actively blocks access to online gambling websites.
It is crucial to adhere to the laws of your jurisdiction since regulations concerning online betting may vary in different countries.
Is Online Betting Legal in Pakistan?
Online betting in Pakistan is deemed illegal according to the Pakistani constitution and its anti-gambling laws. The government has taken measures to block online betting sites and conduct gambling stings to apprehend individuals engaged in illegal gambling activities. Strict regulations are enforced on domestic betting sites that are also blocked. It is crucial to acknowledge that gambling activities are prohibited according to religious laws in Pakistan.
Despite the illegality of online betting, there has been a surge in the popularity of international betting sites in Pakistan. These platforms provide a wide range of betting options, including sports betting, poker, and online casino games. It is essential to recognize the associated risks as the online gambling industry is susceptible to fraudulent practices and unlawful behavior. Engaging with these international sites may also expose individuals to potential money laundering charges.
Popular Online Betting Options in Pakistan
For all the avid bettors in Pakistan, let's explore the popular online betting options that keep the adrenaline pumping. From thrilling sports betting to exciting online casino games and gripping poker sessions, we've got it all covered. Discover the world of possibilities and immerse yourself in the ultimate betting experience. Get ready to dive into the action, analyze odds, and place your bets like a pro. Let's uncover the top choices for online betting in Pakistan.
Sports Betting
In Pakistan, sports betting is a popular activity for individuals. They can bet on various sports like cricket, football, hockey, and tennis. Online platforms offer a wide range of sports betting options, including pre-match and live betting. Popular international sports betting websites allow Pakistani users to bet on their favorite sports events. These individuals can place bets on different aspects of a game, such as the final score, goal scorers, or specific events within the game.
In the past, sports betting in Pakistan primarily relied on bookies and underground gambling dens. Online betting platforms now provide more accessible and convenient options for individuals to bet on their favorite sports.
It is crucial for individuals to understand and comply with the legalities and regulations concerning online gambling in Pakistan. To ensure a safe and secure betting experience, it is advisable to only use trusted and licensed international gambling and betting companies. Individuals should engage in responsible gambling and be mindful of the risks associated with betting.
Saddle up and roll the dice, because online casino games in Pakistan are taking the nation by storm, offering a thrilling gamble from the comfort of your own home.
Online Casino Games
When it comes to online casino games, there is a wide variety to choose from. Online casinos offer a selection of slot games, including classic three-reel slots and modern video slots. These games come with different themes, bonus rounds, and jackpots. Online casinos provide table games such as blackjack, roulette, baccarat, and poker. Players have the opportunity to test their skills and strategies against the dealer or other players.
For a more realistic experience, online casinos offer live dealer games. Through live video streaming, players can interact with real-life dealers while playing popular table games. Another popular option is video poker, which combines elements of traditional poker and slot machines. In video poker, players aim to create the best poker hand by holding and discarding cards in multiple rounds.
If you're looking for a chance to win big, online casinos host progressive jackpot games. These games, usually in the form of slots, feature a prize pool that accumulates over time. With just a single spin, players have the opportunity to win substantial sums of money.
When deciding on an online casino game, it's important to consider various factors. Make sure to review the game's rules and odds, as well as the reputation of the software provider. Prioritize the safety and security of the online casino platform. Conduct thorough research and read reviews about different online casinos to make an informed decision. Set a budget and play responsibly to ensure an enjoyable and risk-free gaming experience.
Poker
Poker is a popular option for online betting in Pakistan. Players can participate in various types of games, such as Texas Hold'em, Omaha, or Seven-Card Stud. Skill and knowledge play a significant role in determining the outcome of the game. Players can win substantial amounts of money by honing their poker skills and implementing effective strategies. When choosing an online platform for poker betting in Pakistan, factors such as licensing, regulation, customer support, variety of options, and convenient payment should be considered. Online poker offers an exciting and challenging gambling experience in Pakistan, allowing players to test their skills and compete for lucrative winnings.
How to Choose a Reliable Online Betting Platform in Pakistan?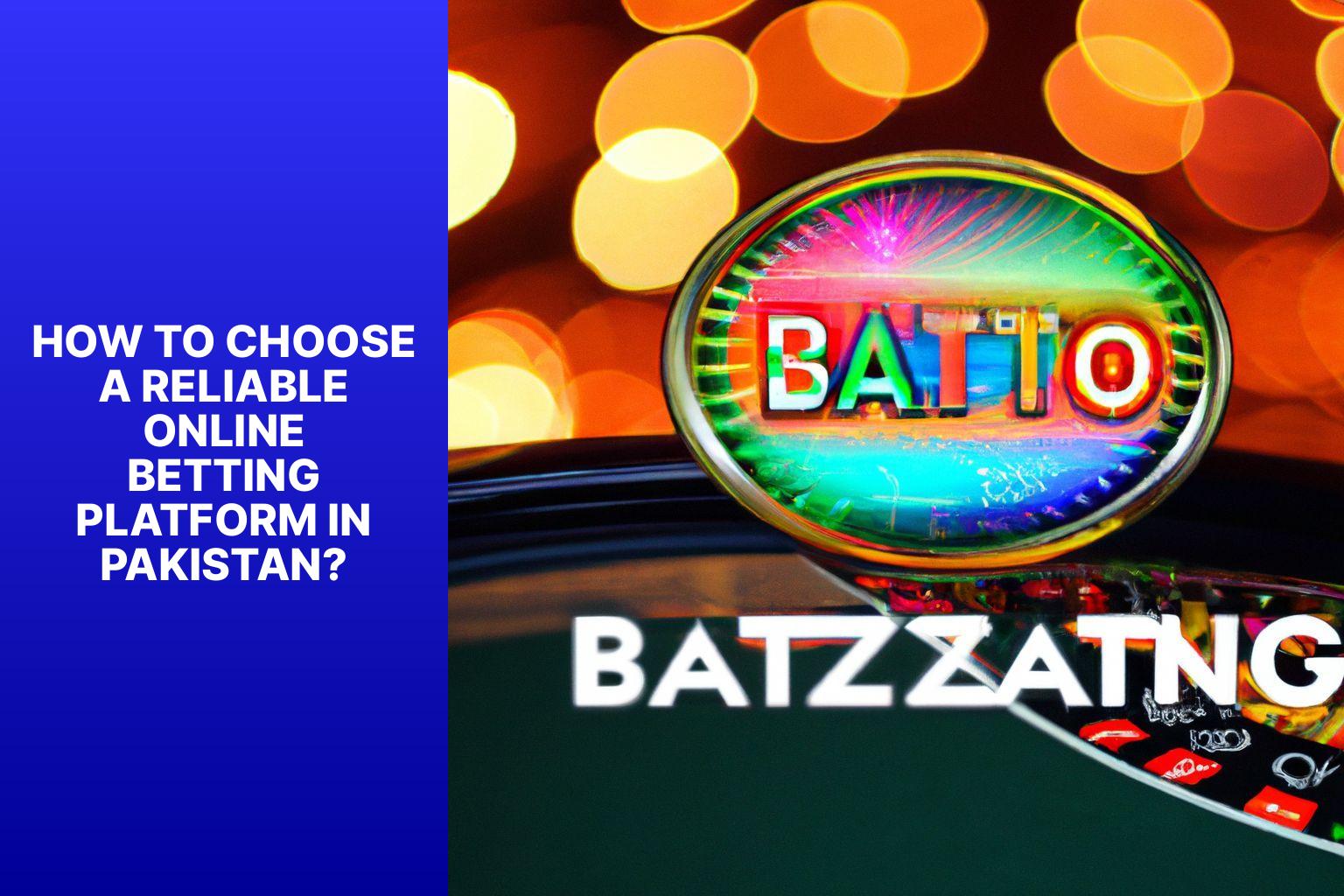 Photo Credits: Igame.News by Vincent Harris
Looking to place bets online in Pakistan? Want to ensure you choose a reliable platform? Look no further! In this section, we'll discuss key factors to consider when selecting an online betting platform. From licensing and security measures to payment options and customer support, we'll guide you through the essentials. Plus, we'll explore the variety of betting options and exciting promotions and bonuses available. Get ready to make informed choices and enhance your online betting experience.
Licensing and Regulation
In online betting in Pakistan, licensing and regulation are crucial. The table below outlines the key aspects of licensing and regulation:
| | |
| --- | --- |
| Licensing | – Online betting platforms in Pakistan must obtain a valid license from the regulatory authority. |
| Regulation | – The regulatory authority oversees online betting platform operations to ensure compliance with the law. |
| Consumer Protection | – Licensing and regulation protect consumers from fraud and unfair practices. |
| Fair Gaming | – Licensed platforms must adhere to strict guidelines to ensure fair gaming and prevent manipulation. |
| Responsible Gambling | – Licensed platforms promote responsible gambling practices and provide support for individuals with gambling problems. |
Choosing a reliable and licensed online betting platform ensures the protection of funds and personal information. Verify the licensing and regulatory status of online betting platforms before engaging in gambling to ensure a safe and secure experience. Licensing and regulation not only protect consumers but also contribute to the integrity and credibility of the online betting industry in Pakistan.
Online betting platforms in Pakistan take security seriously, because losing your money is bad enough, but losing it to hackers would be even worse.
Security Measures
When it comes to online betting in Pakistan, security measures are important for a safe gambling experience. Here are some crucial security measures to consider:
Encryption: Look for online betting platforms that use SSL (Secure Socket Layer) or other advanced encryption technology to protect your personal and financial information.
Secure Payment Methods: Choose platforms that offer secure and trusted payment methods like credit cards, e-wallets, or bank transfers to protect your transactions.
Identity Verification: Reputable online betting sites require users to verify their identity, preventing fraud and unauthorized access to accounts.
Firewall Protection: Reliable platforms have robust firewall systems to block unauthorized access or malicious attacks on servers and user accounts.
Account Protection: Select platforms that offer two-factor authentication or strong passwords to add an extra layer of protection to your betting account.
Fact: The online gambling industry spends millions of dollars each year to enhance security measures, ensuring a safe betting environment for users worldwide.
Choosing the right payment option for online betting in Pakistan may be tough, but hey, it's a small price to pay for winning big!
Payment Options
Below is a table outlining the payment options for online betting in Pakistan:
| | |
| --- | --- |
| Credit/Debit Card | Visa, Mastercard, American Express |
| E-wallets | PayPal, Skrill, Neteller |
| Bank Transfer | Direct transfer from local bank accounts |
| Prepaid Cards | PaySafeCard |
| Cryptocurrency | Bitcoin, Ethereum |
These payment options provide convenient and secure ways to fund your online betting account in Pakistan. Credit/debit cards are widely accepted and allow for quick transactions. E-wallets offer an additional layer of security and can be easily linked to your betting account. Bank transfers provide a direct way to deposit funds from your local bank account.
Prepaid cards, such as PaySafeCard, offer a prepaid voucher system for online payments, including betting. Cryptocurrency, like Bitcoin and Ethereum, provides a decentralized and anonymous payment option for those who prefer using digital currencies.
Choose a payment option that suits your needs in terms of convenience, security, and accessibility. Consider factors such as transaction fees, processing times, and availability when selecting your preferred payment method for online betting in Pakistan.
Customer support: Because life is already unpredictable, you'll want a betting platform that's there to answer all your questions when your bets aren't going as planned.
Customer Support
When it comes to online betting, customer support is of utmost importance. It is crucial to consider the following factors when evaluating the customer support of an online betting platform:
1. Availability: It is vital to choose a platform that offers 24/7 customer support. This ensures that assistance is readily available at any time, regardless of your time zone.
2. Communication channels: A good online betting platform should provide various communication channels such as live chat, email, and phone support. This allows you to choose the most convenient method for reaching out.
3. Response time: Prompt responses are essential when you have issues or questions. A reliable platform should have quick turnaround times for customer inquiries to ensure timely assistance.
4. Knowledgeable and friendly staff: The customer support team should be well-trained and knowledgeable about the platform's services and policies. It is equally important for them to be friendly, approachable, and willing to help solve any problems you may encounter.
5. Problem resolution: Effective customer support goes beyond just responding to queries. It should focus on efficiently and effectively resolving issues to ensure customer satisfaction. Look for platforms that prioritize problem resolution.
Having strong customer support greatly enhances your online betting experience. It reassures you that any concerns or problems will be promptly and professionally addressed, allowing you to enjoy your betting activities with peace of mind.
From sports betting to online casinos, Pakistan offers a variety of betting options that will keep you entertained and your wallet crying for mercy.
Variety of Betting Options
When it comes to online betting in Pakistan, there is a variety of betting options available for players to choose from. Here are some popular betting options:
– Sports betting: It allows you to wager on a variety of sports like cricket, football, basketball, and more. You can place bets on matches, tournaments, or specific events.
– Online casino games: Online casinos offer a range of games, including slots, blackjack, roulette, and poker. These games provide an authentic casino experience at home.
– Poker: Online poker rooms are popular for players who enjoy the strategic and competitive nature of the game. You can play against players worldwide and test your skills.
– Tote betting: Tote betting, also known as pool betting, allows you to bet on horse racing events. You can choose from betting options like win, place, and show.
With a variety of betting options, you can find something that suits your preferences. Whether you're a sports fan, enjoy casino games, or love horse racing, online betting platforms in Pakistan have you covered.
Promotions and Bonuses
Promotions and bonuses are crucial for attracting and retaining customers in the realm of online betting in Pakistan. Here are some key factors to consider:
Sign-up bonuses: Numerous online betting platforms provide bonuses to new customers. These bonuses may take the form of free bets, bonus funds, or improved odds. It's advisable to compare the various sign-up bonuses available to find the most favorable offer.
Deposit bonuses: Certain platforms offer bonuses based on the amount of your deposit. For instance, they may match a percentage of your deposit up to a specified limit. These bonuses provide additional funds for your wagers.
Reload bonuses: To keep existing customers engaged, some platforms offer reload bonuses. These bonuses can be claimed when you make subsequent deposits into your account. They serve as an extra incentive to continue betting.
Free bets: Promotions often include free bets, allowing you to place wagers without using your own funds. In the event of a winning bet, you get to keep the winnings, but not the stake.
Loyalty programs: Several platforms have loyalty programs that reward their loyal customers. These programs provide exclusive bonuses, personalized promotions, and other perks.
It is important to read and understand the terms and conditions associated with promotions and bonuses. This includes any wagering requirements, minimum odds, or other conditions that must be met before you can withdraw your winnings. By taking advantage of promotions and bonuses, you can enhance your online betting experience in Pakistan.
Take a gamble on responsible gambling and avoid becoming a risky bet yourself.
Risks and Responsible Gambling
Online betting in Pakistan comes with its fair share of risks, and it's important to navigate the world of gambling responsibly. In this section, we'll dive into the potential dangers that can arise, such as addiction and problem gambling. We'll also address the existence of fraudulent platforms, shedding light on the importance of choosing reliable and secure options. So, buckle up as we explore the darker side of online betting and equip ourselves with the knowledge to protect against potential pitfalls.
Addiction and Problem Gambling
Online betting carries risks of addiction and problem gambling. It is important to recognize the signs of addiction and problem gambling, which can manifest in various ways. These signs include constantly thinking about gambling, feeling restless when cutting back, and resorting to dishonesty or illegal activities to fund gambling.
To prevent addiction, it is crucial to set limits on both time and money spent gambling. Establish personal boundaries and stick to a budget. It is important to avoid chasing losses, as this can lead to further problems.
If you or someone you know is struggling with gambling addiction, seek support from organizations such as support groups, treatment programs, or professional counselors who specialize in gambling-related issues. They can provide the assistance needed to overcome this problem.
Many online betting platforms offer a self-exclusion feature, which allows users to block access to their accounts for a specific period. This can help prevent impulsive gambling and provide a chance for individuals to regain control.
It is worth noting that a study by the UK Gambling Commission estimated that approximately 0.5-0.8% of UK adults suffer from problem gambling. Therefore, it is essential to approach online betting responsibly and prioritize your well-being.
Fraudulent Platforms
Fraudulent platforms are a major concern in online betting. It is important to be aware of these platforms and avoid scams. Here are some key points to consider:
1. Research: Before signing up for any online betting platform, thoroughly research its legitimacy. Look for reviews and ratings from other users for insight.
2. Licensing and regulation: Genuine online betting platforms are licensed and regulated by reputable authorities. Check if the platform has necessary licenses and certifications.
3. Secure transactions: Fraudulent platforms may lack proper security measures. Look for platforms with secure encryption techniques and reliable payment options.
4. User reviews and feedback: Pay attention to user reviews and feedback for insights into the platform's reputation. Multiple negative reviews regarding fraudulent activities are a red flag.
5. Poor customer support: Fraudulent platforms often have unresponsive customer support. A reputable platform will have a helpful and responsive customer support team.
6. Red flags: Be cautious of platforms that make unrealistic promises, offer excessive bonuses or promotions, or engage in unethical practices. These are signs of fraudulent platforms.
By being vigilant and taking these precautions, you can protect yourself from falling victim to fraudulent platforms and enjoy a safe and secure online betting experience.
The Future of Online Betting in Pakistan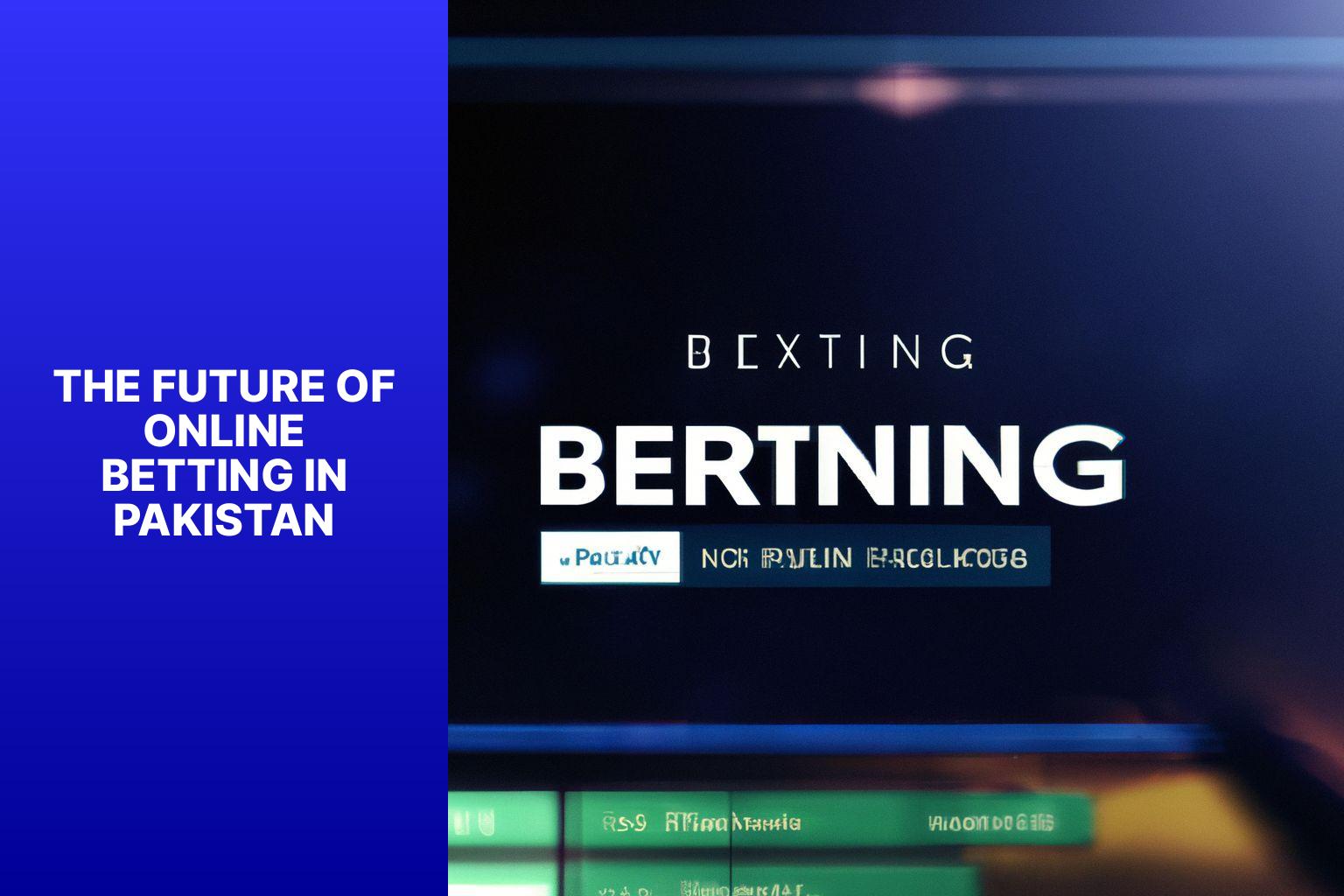 Photo Credits: Igame.News by Robert Moore
The future of online betting in Pakistan is promising as the government has started to regulate and legalize it, creating a safer and more secure environment for bettors. With the increasing popularity of online betting platforms worldwide, more options are likely to become available to Pakistani users. Legalizing online betting will also contribute to the country's economy by generating revenue and creating job opportunities.
It is important for individuals to bet responsibly and be aware of the potential risks associated with gambling. It is advisable to choose licensed and reputable betting sites, set limits on betting amounts, and seek help if a gambling problem arises.
Pro-tip: Before engaging in online betting, thoroughly research and understand the legalities and regulations surrounding gambling in Pakistan to ensure a safe and enjoyable betting experience.
Some Facts About Online Betting in Pakistan: Legalities and Options:
✅ Online gambling, including betting, is illegal in Pakistan. (Source: Our Team)
✅ Horse racing betting at regulated racetracks is the only legal form of gambling in Pakistan. (Source: Our Team)
✅ Lotteries are also banned in Pakistan. (Source: Our Team)
✅ Violators of gambling laws can face fines of up to 1,000 PKR and/or up to five years in prison. (Source: Our Team)
✅ Despite the strict laws, online betting is popular in Pakistan, especially in cricket. (Source: Our Team)