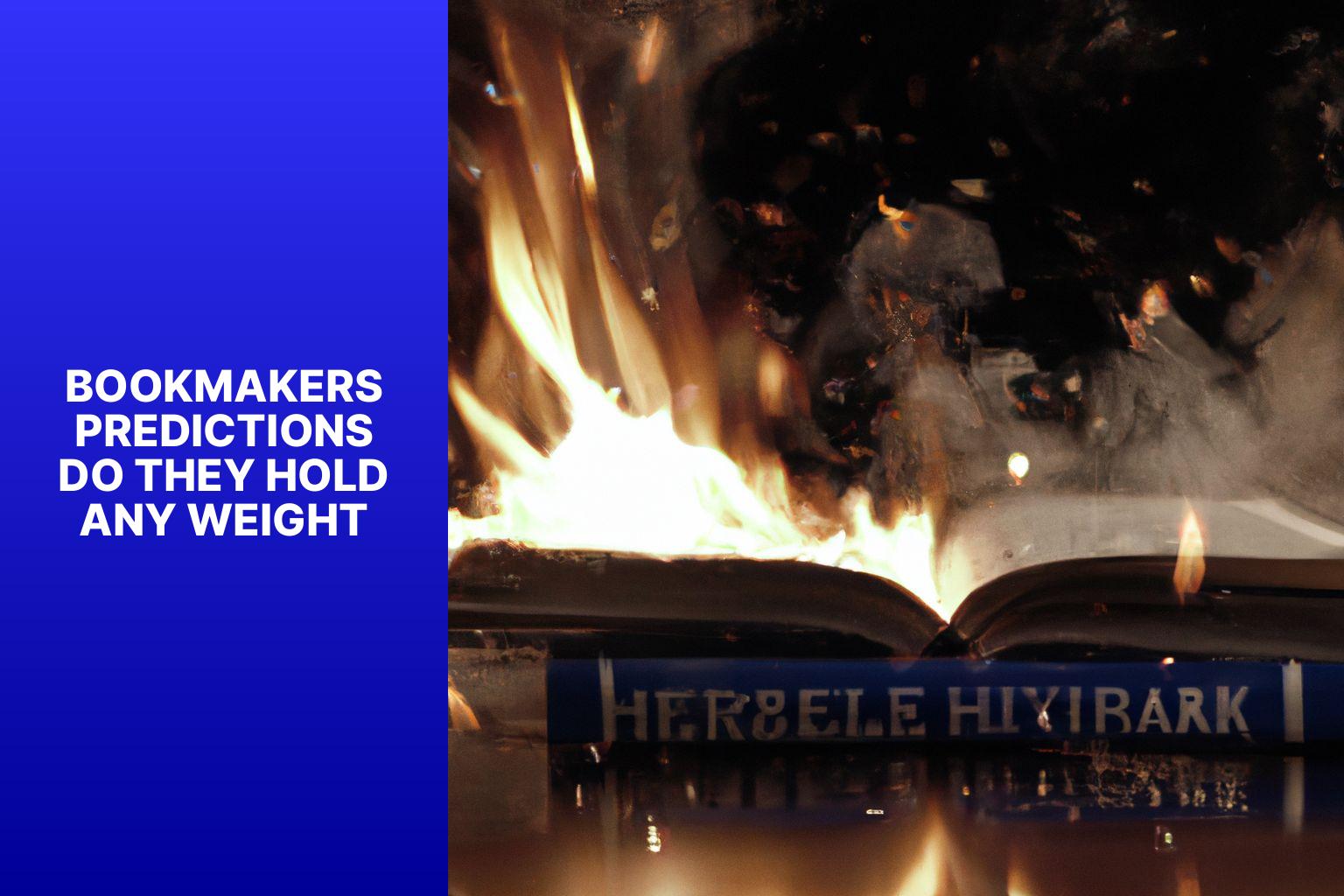 Bookmakers' predictions play a significant role in the world of sports betting. They are known for their ability to estimate the outcome of sporting events and set odds accordingly. But do these predictions hold any weight? Let's delve deeper into the world of bookmakers' predictions to understand their process and reliability.
To make predictions, bookmakers employ various strategies based on a multitude of factors. They consider elements such as team form, player injuries, historical performance, head-to-head records, and expert analysis. These factors help bookmakers assess the probabilities of different outcomes occurring. The use of sophisticated algorithms and statistical models allows them to make more accurate predictions.
One crucial aspect of bookmakers' predictions is determining the odds. Bookmakers analyze all the available information and adjust the odds to ensure a balanced betting market and protect themselves from potential losses. The odds are influenced by factors like the popularity of a particular team or player, betting patterns, and their own risk management strategies.
The reliability of bookmakers' predictions might be a subject of debate. While bookmakers employ data-driven approaches, their predictions are not always foolproof. Factors like unexpected player performances, weather conditions, or referee decisions can make predictions go awry. Bookmakers' predictions can be influenced by external factors such as public opinion, media coverage, and betting trends.
Whether you should trust bookmakers' predictions solely is subjective. While they provide valuable insights, it's essential to consider them as one piece of the puzzle. Many successful bettors combine bookmakers' predictions with their analysis or consider alternative sources such as expert opinions, statistical models, or betting exchanges. This approach allows them to make more informed decisions and maximize their chances of success.
The impact of bookmakers' predictions extends beyond just giving bettors an estimation of outcomes. Their predictions can influence the betting market itself. When bookmakers release their odds, it can attract significant betting activity and shape the market's perception of an event's likelihood. This, in turn, can impact the odds and create a biased market.
Key takeaway:
Bookmakers' predictions rely on a careful analysis of various factors: Bookmakers consider multiple factors such as team performance, player injuries, and historical data to make their predictions.
Bookmakers' odds reflect their prediction accuracy: The odds set by bookmakers are based on their confidence in their predictions, with higher odds indicating a higher perceived probability of the outcome.
Bookmakers' predictions should be used as a tool, not a guarantee: While bookmakers' predictions can provide valuable insights, they are not infallible. It is important to use them in conjunction with other sources and personal analysis to make informed betting decisions.
How Do Bookmakers Make Predictions?
Bookmakers use a variety of methods to make predictions in sports events, taking into account factors such as statistical models, historical data, and expert knowledge. They carefully analyze past performances, injuries, weather conditions, and other relevant information to determine the probabilities of different events occurring. By considering all these factors, bookmakers are able to set odds that attract balanced betting and minimize risk.
In addition to the aforementioned factors, bookmakers also consider betting patterns and market sentiment. They closely monitor the amount of money wagered on each outcome and adjust the odds accordingly. If a large sum of money is placed on a specific outcome, the odds will be shortened. This helps bookmakers manage their risk effectively.
It's important to remember that bookmakers are not infallible in their predictions. Upsets and unexpected events can still happen, leading to outcomes that were not anticipated. Nevertheless, bookmakers strive for long-term accuracy by taking into account the profit margin known as the "overround".
Bookmakers often employ teams of statisticians and data analysts who utilize advanced mathematical models and algorithms to analyze data. This rigorous analysis enables them to generate accurate probabilities for different outcomes. Bookmakers employ a systematic approach combining various factors and expertise to make predictions effectively.
What Factors Do Bookmakers Consider?
Bookmakers take into account several factors when making predictions in sports betting. These factors include data analysis, injury reports, weather conditions, home field advantage, current form, head-to-head records, public opinion, and expert insights.
Bookmakers analyze team statistics, player performance, and historical match results to assess the strengths and weaknesses of the teams. They also consider the injury reports of key players in order to adjust the odds accordingly. Weather forecasts are taken into account to evaluate how they might affect the outcome of a game. Home field advantage is factored in when making predictions, as it can provide a team with an advantage. Recent performance of teams or individuals is analyzed to determine their current form. The historical record of matches between teams or players offers valuable insight. Public sentiment, betting trends, and the amount of money wagered on a specific outcome help bookmakers adjust the odds. Bookmakers may consult experts in the respective sports to gain additional insights and expertise, which can influence their predictions and odds.
How Do Bookmakers Determine Odds?
Bookmakers determine odds by carefully analyzing various factors and probabilities. They take into account the current state of the teams or players, their previous performance, and historical data, among other relevant information that can impact the outcome. Through a thorough consideration of these variables, bookmakers aim to accurately predict outcomes and set the odds accordingly.
One key aspect that bookmakers consider is the skill and ability of the participants. They examine past performances, rankings, and statistics to assess the likelihood of success. In addition, bookmakers may also take into account any injuries, suspensions, or other factors that could potentially affect a team or player's performance.
Another crucial factor in determining odds is the betting patterns of the public. Bookmakers closely monitor how bettors place their bets and make adjustments to the odds to balance the betting activity and minimize risks. Their objective is to set odds that attract an equal amount of money on both sides, ensuring a profitable outcome.
Bookmakers also consider the implied probability of each outcome. By assigning odds, they calculate the probability of each outcome occurring. And then, they make slight adjustments to the odds in order to include their profit margin. This helps ensure that the total probability is more than 100%.
Bookmakers employ a comprehensive approach that incorporates multiple factors and considerations in order to determine accurate odds.
Are bookmakers just really good at guessing, or do their predictions actually hold some weight?
Are Bookmakers' Predictions Reliable?
Bookmakers' predictions are often relied upon by many when placing bets on sports events. It is important to question their reliability. Are Bookmakers' Predictions Reliable?
Bookmakers base predictions on factors such as team performance, player statistics, and historical data. While these factors can provide insight into the potential outcome of a game, they are not infallible. Bookmakers' predictions are based on probabilities and trends, but they cannot accurately predict the future.
Additionally, bookmakers have a vested interest in making profitable predictions. They aim to balance their books and make money, which may influence their predictions. This can lead to biased or inaccurate predictions.
Therefore, it is crucial to exercise caution when relying solely on bookmakers' predictions. It is advisable to conduct personal research, consider multiple sources of information, and analyze relevant data before making any betting decisions. Are Bookmakers' Predictions Reliable?
Do Bookmakers Always Get It Right?
Bookmakers do not always get it right. Despite relying on historical data and statistical models, their predictions are not infallible. There is a margin of error in their assessments. Additionally, bookmakers' predictions can be influenced by public opinion and betting trends, which may lead them to adjust their odds to mitigate risks. Unforeseen circumstances, such as injuries, weather conditions, or changes in team dynamics, can greatly impact the outcome of a sporting event. Due to the unpredictable nature of sports, bookmakers cannot guarantee perfect accuracy. Therefore, bettors should approach bookmakers' predictions with caution and consider various other factors before making their final decision.
What Influences Bookmakers' Predictions?
– Past Performance: Bookmakers consider teams' or individuals' past performance, including win-loss records, recent form, head-to-head matchups, and historical trends.
– Injuries and Suspensions: The availability of key players can greatly impact the outcome of a game or event, so bookmakers take into account any injuries or suspensions.
– Team News and Lineups: Bookmakers closely monitor team news and lineups to assess the strength and depth of a team. Last-minute changes or tactical decisions can affect the outcome of a game.
– Home Field Advantage: Bookmakers recognize the advantage of playing at home, considering the impact of the crowd, familiarity with the surroundings, and the boost it gives to the home team.
– Weather Conditions: Bookmakers consider weather conditions like rain, wind, or extreme temperatures, as they can affect certain sports and the outcome of a game or event.
– Form and Momentum: Teams or individuals on a winning streak or in good form are more likely to perform well in the future. Bookmakers consider momentum and recent form.
– Market Trends and Betting Patterns: Bookmakers analyze market trends and betting patterns to adjust predictions. High betting volumes or significant odds shifts may indicate insider information or public sentiment.
– Statistics and Analytics: Bookmakers use statistical models and advanced analytics to assess teams' performance and make predictions. They analyze data such as goals scored, possession, shots on target, and other relevant metrics.
Bookmakers' odds: More unpredictable than a blindfolded squirrel playing darts in a hurricane.
How Accurate Are Bookmakers' Odds?
Bookmakers' odds are widely regarded as a highly reliable predictor of sporting events. They employ a comprehensive approach to analysis, considering factors such as historical data, team and player form, home field advantage, and market trends. Through the use of advanced statistical models and algorithms, bookmakers are able to calculate probabilities with remarkable precision. This enables them to provide bettors with the most likely outcomes, effectively helping them make informed betting decisions. Despite their undeniable accuracy, upsets can still occur, reminding us that sports can be unpredictable. Nonetheless, bookmakers strive to minimize errors and continually improve their odds in order to offer the best possible service to their customers.
Put your trust in bookmakers' predictions and you might as well blindfold yourself and throw darts at a wall—it's a dark and absurd game of chance.
Should You Trust Bookmakers' Predictions?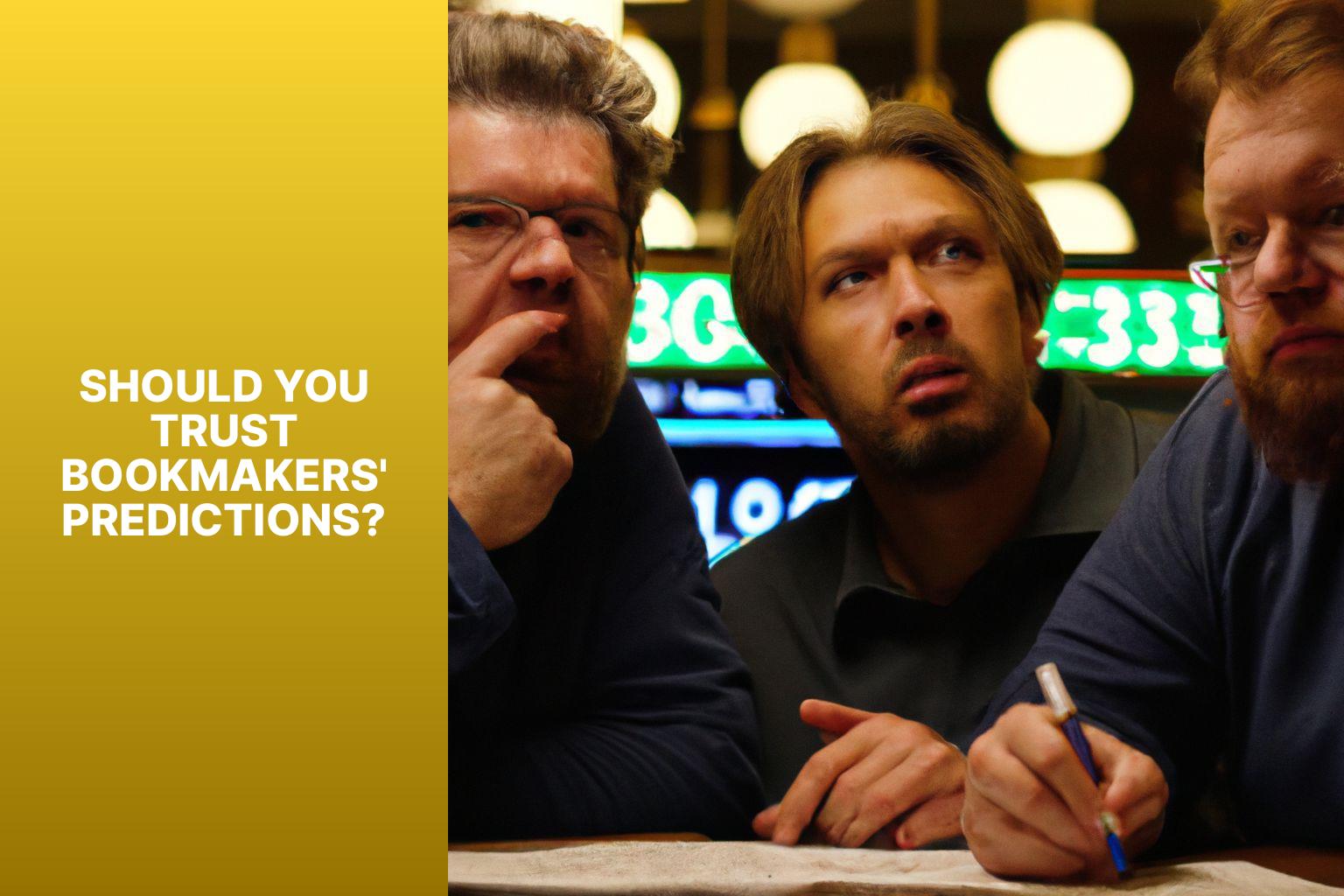 Photo Credits: Igame.News by Kyle Lewis
When it comes to deciding whether or not you should trust bookmakers' predictions, it is essential to take a critical approach and consider a few key factors. One important aspect to examine is the bookmakers' past performance. It is crucial to look for consistency and reliability in their track record. Market factors play a significant role in the predictions made by bookmakers. It is important to consider the conditions and influences that impact the outcome of the event, which the bookmakers use to determine the odds.
Another factor to keep in mind is the betting patterns. It is essential to be aware that bookmakers' predictions can be influenced by public preferences rather than being solely based on true probability. Therefore, it is important to take this into account when evaluating their predictions. Expertise and research are also crucial when assessing the bookmakers' predictions. It is important to consider their understanding and research of the sport or event in question.
While bookmakers' predictions can provide valuable insights, it is important to remember that they should only be one part of your decision-making process. It is vital to rely on your own analysis and judgment in order to achieve better outcomes.
Can Bookmakers' Predictions Be Used as a Strategy?
Bookmakers' predictions can indeed be used as a strategy in sports betting. By considering several important factors, bettors can increase their chances of making profitable bets.
One crucial aspect is the expert analysis provided by bookmakers. These professionals have access to valuable data and employ expert analysts who thoroughly study various aspects such as teams, players, and other relevant factors to create accurate predictions.
Trends and statistics are also essential factors to consider. Bookmakers take into account historical data, including team performance, head-to-head records, injuries, and other indicators. Examining these aspects helps bookmakers determine the likely outcomes of sporting events.
Monitoring the movement of betting lines can prove to be useful as well. If bookmakers' predictions cause a shift in the betting line, there may be value in going against the public consensus. This means that bettors who pay attention to these shifts may find opportunities to make profitable bets.
Another important factor to consider is the closing line value. The closing line is the final betting line established right before a game starts. Beating the closing line consistently indicates a good strategy and has the potential to result in profitable bets. Therefore, it is crucial to analyze the closing lines and aim to place bets that beat them consistently.
Having multiple sportsbook accounts can be advantageous. By having accounts with different bookmakers, bettors can compare odds and choose the best numbers available. This allows them to take advantage of favorable odds and maximize potential profits.
Studies have shown that sharp bettors who consistently beat the closing line are more likely to be long-term winners in sports betting. Therefore, incorporating bookmakers' predictions into one's betting strategy can prove to be a smart move in the pursuit of success.
Are There Alternative Sources for Predictions?
Are There Alternative Sources for Predictions?
When it comes to predictions, bookmakers are not the only source to consider. Alternative sources can provide valuable insights and information to inform your betting decisions. Here are some options to explore:
1. Expert analysis: Sports analysts and experts offer predictions and insights on various platforms. They use their expertise and knowledge of the sport to provide valuable information to assist bettors in making informed decisions.
2. Statistical models: Some websites and platforms utilize advanced statistical models to generate predictions. These models consider factors such as team performance, player statistics, and historical data to forecast outcomes. Data-driven approaches can be useful for bettors.
3. Online communities: Joining online communities of sports enthusiasts and bettors provides access to a wealth of information and different perspectives. These communities discuss upcoming matches, share insights, and exchange predictions. Engaging with fellow bettors can provide alternative viewpoints helpful in making decisions.
4. Independent tipsters: Individuals specialize in providing betting tips and predictions. They offer their services through websites, newsletters, or social media platforms. Research and consider their track record before relying on their predictions.
Remember, while alternative sources provide additional information, interpret and analyze the information critically. Ultimately, bettors must make well-informed decisions based on their own assessment of the available information.
The Impact of Bookmakers' Predictions on Sports Betting
Bookmakers' predictions have a significant impact on sports betting, as they are based on extensive research, statistical analysis, and expert knowledge of the specific sport. These predictions provide valuable insights for bettors, helping them make informed decisions.
Firstly, bookmakers' predictions help bettors gauge the likelihood of a specific outcome. By assigning odds to each possible result, bookmakers reflect the probability of it happening. This enables bettors to assess the risk and potential reward associated with their bets.
Secondly, bookmakers' predictions influence bettors' behavior. When bookmakers favor a team or player, it attracts more bets in their favor. As a result, underdogs may have higher odds, creating opportunities for astute bettors to capitalize on potentially lucrative outcomes.
Finally, bookmakers' predictions have an impact on the overall betting market. If a highly regarded bookmaker releases predictions for a game, it influences the perception of the betting community and leads to a shift in betting patterns. Consequently, this affects the odds offered by other bookmakers, creating a dynamic and evolving betting environment.
How Do Bookmakers Influence the Betting Market?
Bookmakers significantly influence the betting market. They exert their influence in several ways:
1. Setting odds: Bookmakers determine odds for sports events based on factors like team performance, player injuries, and historical data. These odds affect the betting behavior of punters.
2. Shifting lines: Bookmakers adjust odds based on betting activity. If there are many bets on one team, they may adjust the odds to balance the book and mitigate potential losses.
3. Creating markets: Bookmakers offer a wide range of betting options on different sports events. They create markets for various outcomes, including the final result, individual player performances, and smaller details like the number of corners in a soccer match. This variety allows bettors to choose from multiple options.
4. Influencing public perception: Bookmakers' predictions and odds can shape public perception and affect bettors' confidence. When bookmakers heavily favor one team or player, it may lead to an increase in bets on the favored outcome.
5. Providing personalized odds: Bookmakers often offer personalized odds to customers based on their betting history and preferences. This gives a sense of exclusivity and influences individual bettors' decisions.
Can Bookmakers' Predictions Create Biased Markets?
Bookmakers' predictions have the potential to create biased markets. This bias can be influenced by several factors. First and foremost, when bookmakers make predictions, it can shape the perception of odds among bettors. This, in turn, attracts a large number of bets on the predicted outcome, leading to a shift in the odds. As more people follow the bookmaker's prediction and place bets accordingly, the bias becomes more pronounced.
Bookmakers' predictions can be influenced by their own interests and strategies. They may adjust the lines or odds to favor their profitability or minimize risk. Consequently, this can result in biased markets where the odds fail to accurately reflect the true probability of an outcome.
The predictions made by bookmakers can be impacted by the betting patterns of sharp bettors or professional gamblers. Bookmakers may adjust their odds based on the actions of these experienced individuals, which can create a bias towards outcomes favored by them.
Hence, the question arises: Can bookmakers' predictions create biased markets? The answer is affirmative, as demonstrated by the factors discussed above.
Some Facts About Bookmakers' Predictions: Do They Hold Any Weight?
✅ Closing line value (CLV) is an important factor in sports betting. (Source: Our Team)
✅ Beating the closing line consistently indicates the value of a bet relative to where the line closes. (Source: Our Team)
✅ Even small differences in the closing line can result in savings or winnings for bettors. (Source: Our Team)
✅ Having multiple sportsbook accounts can increase the chances of beating the closing line. (Source: Our Team)
✅ Tools like line predictors and historical data analysis can help bettors make informed decisions. (Source: Our Team)