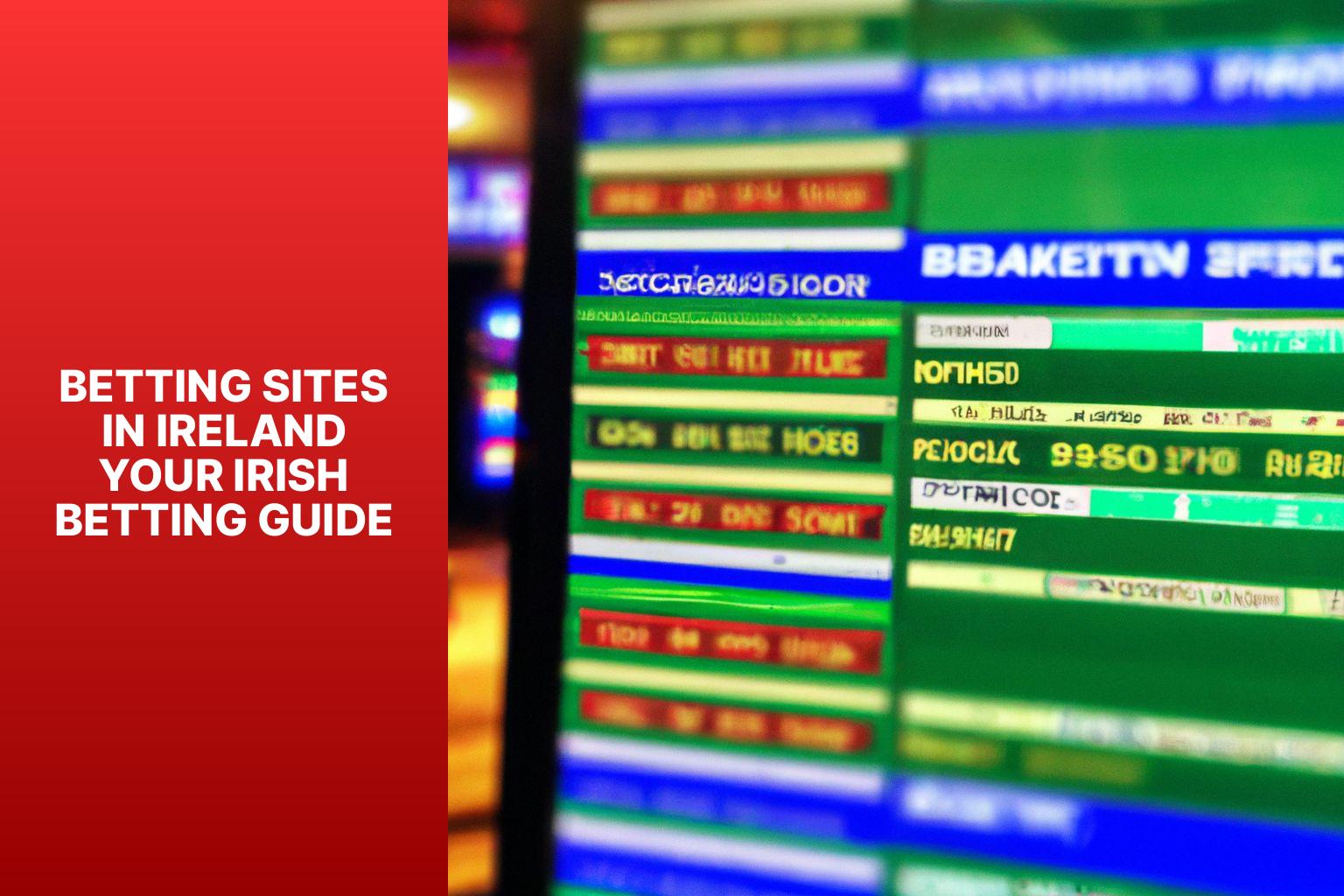 Betting in Ireland has a long and rich history, and with the advent of online platforms, it has become more accessible and convenient than ever before. Before diving into the world of betting, it's crucial to understand the legalities, regulations, and considerations specific to the Irish betting landscape.
The legal framework for betting in Ireland is governed by the Betting Act of 1931, which has evolved over time with subsequent amendments. This legislation provides a regulatory framework for both land-based and online betting activities in the country.
When it comes to online betting sites, they are legal and regulated in Ireland. The Irish government introduced the Betting (Amendment) Act in 2015, which requires online operators to obtain a license from the Revenue Commissioners to offer their services to Irish residents. This ensures that players have access to a fair and secure betting environment.
Choosing the right betting site is crucial for a satisfying and safe betting experience. Factors to consider when selecting a betting site in Ireland include the reputation and credibility of the operator, available betting markets, competitive odds, user-friendly interface, customer support, and payment options.
Several popular betting sites cater to Irish players, offering a wide range of sports and betting markets. These include well-known names such as Paddy Power, Ladbrokes, Bet365, and Boylesports, among others.
In Ireland, different types of bets are available to suit every punter's preference. Traditional sports betting, where players place wagers on the outcome of sporting events, is the most common type of bet. In-play betting, also known as live betting, allows players to bet on ongoing matches or events. spread betting offers a unique form of wagering based on the accuracy of predicted outcomes.
When it comes to payment methods on Irish betting sites, players have various options available, including credit/debit cards, e-wallets, and bank transfers. These platforms usually prioritize the security and encryption of online transactions to ensure the safety of players' personal and financial information.
Promotions and bonuses are a common feature of Irish betting sites, designed to attract and reward players. These can include free bets, deposit bonuses, enhanced odds, and loyalty programs. It is crucial to familiarize yourself with the terms and conditions associated with these bonuses to make informed decisions.
Responsible gambling is taken seriously in Ireland, with measures in place to protect players from the adverse effects of excessive betting. These measures include self-exclusion programs, spending limits, and responsible gambling helplines. Players who believe they may have a gambling addiction can seek help from various support services available in the country.
By understanding the legalities, choosing a reputable betting site, exploring different bet types, and adopting responsible gambling practices, players can enjoy a safe and enjoyable betting experience in Ireland.
Key takeaway:
Legalities and Regulations of Betting in Ireland: Understanding the current legal framework for betting in Ireland is crucial for individuals interested in online betting sites. It is important to be aware of the legality and regulations surrounding Irish betting.
Choosing a Betting Site in Ireland: When selecting a betting site, consider factors such as reputation, user interface, customer support, and available betting options. Popular betting sites in Ireland can provide a diverse and enjoyable betting experience.
Types of Bets Available in Ireland: Traditional sports betting, in-play betting, and spread betting are some of the options available for individuals interested in betting in Ireland. Familiarize yourself with these different types of bets to enhance your betting experience.
Legalities and Regulations of Betting in Ireland
Betting in Ireland is subject to the Legalities and Regulations of Betting in Ireland. These regulations include the Betting Act 1931 and the Betting (Amendment) Act 2015, which ensure the legality and fairness of all betting activities.
The primary regulatory authority responsible for overseeing these regulations is the Irish Revenue Commissioners, who grant licenses to operators and enforce compliance with betting regulations.
Currently, it is within the legal framework to place bets online as long as the operator holds a valid license from the Revenue Commissioners. There are also measures in place to protect consumers, such as age restrictions and the requirement for operators to have responsible gambling measures.
Taxation is a crucial aspect of these regulations. All licensed bookmakers in Ireland are obliged to pay a 2% betting duty.
An incident that occurred a few years ago serves as a reminder of the importance of these strict regulations and enforcement in maintaining the integrity of the betting industry. In this true story, a prominent jockey was discovered to have manipulated race outcomes in collaboration with others. Authorities conducted a thorough investigation, resulting in the jockey's ban from the sport and legal action against those involved.
The Legalities and Regulations of Betting in Ireland play a vital role in ensuring the legality, fairness, and integrity of betting activities in the country.
What is the Current Legal Framework for Betting in Ireland?
The current legal framework for betting in Ireland is outlined by the Betting Act of 1931 and the Betting (Amendment) Act of 2015.
These acts establish the guidelines and regulations for all forms of betting, both offline and online.
To operate legally, betting companies must obtain a valid license from the Irish Revenue Commissioners, who oversee and enforce compliance with specific conditions and standards.
These regulations are in place to combat issues such as money laundering, safeguard vulnerable individuals, and promote fair betting practices.
Licensed operators are also obligated to pay a betting duty, which is calculated based on the amount of money they generate from wagers.
It is essential for individuals who wish to engage in betting activities to familiarize themselves with the legal framework and opt for licensed and regulated platforms.
By doing so, they can ensure a safe and secure betting experience.
The main goal of the legal framework in Ireland is to create a regulated environment that protects the rights and interests of individuals involved in the betting industry.
Are Online Betting Sites Legal in Ireland?
In Ireland, online betting sites are legal and regulated. Irish law allows individuals to place bets online through licensed operators. Ensure the chosen betting site is licensed and regulated by the Irish Revenue Commissioners and the Irish Gambling Commission.
When selecting an online betting site in Ireland, consider factors such as reputation, fair play, timely payouts, availability of sports and betting markets, competitive odds, and payment options.
Legitimate betting sites use advanced encryption technology to secure personal and financial information.
True story: John, a sports fan from Dublin, enjoys placing bets online. He chooses a trustworthy site with competitive odds and secure payment options. Online betting enhances his sports-watching experience within the legal framework provided by Irish regulations.
Choosing a Betting Site in Ireland
When it comes to choosing a betting site in Ireland, there are several important factors to consider. Reputation, license and regulation, betting markets, odds and payouts, bonuses and promotions, user experience, and customer support all play a role in your decision-making process.
First and foremost, it's crucial to look for a well-established site with positive reviews. Opt for a platform that has been operating for a significant amount of time and has garnered a solid reputation among bettors.
Ensure that the site is licensed and regulated. This step is essential in safeguarding your personal information and funds. By choosing a licensed and regulated site, you can have peace of mind knowing that your betting activities are in safe hands.
Another aspect to evaluate is the variety of sports and events available for betting. A diverse range of options allows you to explore different betting opportunities and find the ones that best suit your preferences. It's recommended to compare the odds offered by different sites to ensure you're getting the best value for your wagers.
Consider the payout process and timeframe as well. A reliable betting site should offer prompt payouts and clearly communicate their payout policies.
To enhance your overall betting experience, take advantage of any bonuses or promotions offered by the site. These can provide additional value and increase your chances of winning.
User experience is another important consideration. Opt for a site that offers an intuitive and easy-to-navigate user interface. A smooth betting experience ensures that you can place your wagers promptly and without any hassle.
Last but not least, check the availability and quality of customer support. In case you encounter any issues or have questions, it's crucial to have reliable support readily available.
By carefully evaluating all these factors, you can make an informed decision when it comes to choosing a betting site in Ireland that best suits your needs and preferences.
Factors to Consider When Selecting a Betting Site
When selecting a betting site, consider the following factors:
1. Reputation: Research the site's reputation and read user reviews to ensure trustworthiness and reliability.
2. Licensing: Check if the site is licensed and regulated by a reputable authority to ensure legal operation and adherence to guidelines.
3. Variety of Sports and Markets: Look for a site offering a wide range of sports and betting markets for diverse betting experiences.
4. Odds and Payout Rates: Compare odds and payout rates offered by different sites to maximize potential winnings.
5. User-Friendly Interface: Choose a site with an easy-to-navigate interface for an enjoyable betting experience.
6. Bonuses and Promotions: Consider welcome bonuses, free bets, and loyalty programs that enhance the betting experience.
7. Payment Methods: Check the available payment methods for convenience and security.
8. Customer Support: Choose a site with responsive customer service to assist with any queries or issues.
Considering these factors will help you find a betting site that meets your needs and offers a safe and enjoyable betting experience.
What are the Popular Betting Sites in Ireland?
The popular betting sites in Ireland offer options for bettors to place bets and enjoy gambling. Here are some of the most popular betting sites in Ireland:
–
Paddy Power: Known for innovative and quirky marketing campaigns, Paddy Power offers sports betting markets and competitive odds.
–
William Hill: With a long-standing reputation, William Hill provides a comprehensive sportsbook and a user-friendly interface for online betting.
–
Bet365: Regarded as one of the top online betting sites globally, Bet365 offers sports markets, live streaming, and in-play betting options.
–
Boylesports: As Ireland's largest independent bookmaker, Boylesports offers betting markets, promotions, and special offers.
–
Ladbrokes: Known for extensive sports coverage and an easy-to-navigate platform, Ladbrokes provides betting options for both casual and experienced bettors.
–
Betfair: With a unique betting exchange feature, Betfair allows users to bet against each other, offering better odds and flexibility.
–
888sport: A popular choice for sports betting enthusiasts, 888sport offers competitive odds, betting markets, and a user-friendly mobile app.
Pro-tip: Before choosing a betting site, consider factors such as the range of betting markets, competitive odds, user experience, customer support, and available promotions. These factors can help you find the best betting site that suits your preferences and enhances your overall betting experience.
Types of Bets Available in Ireland
From traditional sports betting to in-play and spread betting, discover the diverse array of bets available in Ireland's vibrant gambling industry. Whether you're a seasoned bettor or a curious newcomer, this section will unveil the unique thrills and strategies behind each type of bet. Unleash your inner strategist, explore the dynamic world of Irish betting, and uncover the multitude of options that await you.
Traditional Sports Betting
Traditional sports betting is incredibly popular in Ireland, with a multitude of devoted fans eagerly placing bets on their beloved teams and thrilling events. Individuals can effortlessly wager their money on an array of traditional sports such as football, rugby, horse racing, and so much more.
One imperative factor to consider when engaging in traditional sports betting is the odds provided by the betting site. It is crucial to remember that different sites present varying odds for the same event. Therefore, it is of utmost importance to diligently compare and select a site that offers competitive odds.
The diversity of sports available for betting is another critical aspect. While certain sites may concentrate solely on specific sports, others proudly provide an extensive range of options. Discovering a site that encompasses a wide array of sports ensures that you can confidently place bets on your cherished games and thrilling events.
It is equally essential to contemplate the security and reliability of the chosen betting site. It is highly recommended to ensure that the site possesses appropriate licensing and an impeccable reputation for fair play and prompt payouts. It is crucial to evaluate the user interface and the quality of customer service provided by the site, as these factors significantly contribute to a smooth and enjoyable betting experience.
It is of utmost importance to gamble responsibly and within your means. Establishing a budget for your betting activities and steadfastly adhering to it is paramount. While traditional sports betting can undeniably be an exhilarating and enjoyable pastime, it is crucial to approach it with caution and refrain from indulging in excessive gambling.
In-Play Betting
When it comes to in-play betting on Irish betting sites, there are several factors to consider. Here are some important things to keep in mind:
1. Real-time Odds: In-play betting lets you place bets while a game or event is happening. Look for sites that offer constantly updated odds for accurate information.
2. Variety of Markets: Choose a site that offers a wide range of in-play betting options. This gives you more opportunities to bet on different aspects of the game or event.
3. Live Streaming: Some sites have live streaming of matches or events for real-time viewing. This is helpful if you want to closely follow the game and make more informed bets.
4. Quick Bet Placement: Time is crucial in in-play betting, so look for sites with a user-friendly interface and fast bet placement options. This ensures you can bet promptly without any delays.
5. Cash Out Option: In-play betting can be unpredictable, so choose a site that allows you to cash out early if the situation changes. This lets you secure winnings or limit losses.
Remember, in-play betting is fast-paced and requires careful decision-making and monitoring of the game or event. Stay knowledgeable about the specific sport or event you're betting on and use your insights to make informed in-play bets.
Spread Betting
Spread Betting is a highly popular form of betting in Ireland. Bettors engage in this activity by making predictions on the outcome of certain events, and their winnings are based on the accuracy of these predictions. It's important to have a thorough understanding of spread betting, so here are some key details you should know:
1. How it works: Spread betting involves the bookmaker establishing a spread for a specific event. Bettors then place their bets on whether the actual outcome will be higher or lower than this spread.
2. Range of events: Spread betting isn't limited to just sports matches. It also encompasses financial markets and political outcomes, providing a wide scope for betting opportunities.
3. Risk and reward: Unlike traditional fixed-odds betting, spread betting offers both potentially higher rewards and higher risks. The level of winnings is directly linked to the accuracy of the prediction. If you correctly predict the outcome, you can win more money. There is also the possibility of incurring greater losses if your prediction turns out to be incorrect.
4. Flexibility: One of the advantages of spread betting is the ability for bettors to take positions on both sides of the market. This means that you can place bets on the outcome being either higher or lower than the spread, depending on your assessment of the situation.
If you are interested in trying spread betting, it's crucial to recognize the associated risks and start with small bets until you become familiar with the principles. Staying updated with relevant information and analysis can also significantly improve your predictions. Above all, it is essential to gamble responsibly and only wager what you can afford to lose.
Payment Methods and Security
Payment Methods and Security
When online betting, payment methods and security are crucial. Here are important points to keep in mind:
1. Secure payment methods: Look for betting sites with trusted options like credit cards, e-wallets (such as PayPal or Skrill), and bank transfers. These methods ensure the safety of your financial information.
2. Encryption technology: Make sure the betting site uses SSL encryption to protect your personal and financial details. This technology safeguards your information from hackers or unauthorized individuals.
3. Two-factor authentication: Choose platforms that offer this additional security layer. Two-factor authentication requires a second verification step, like a unique code on your mobile device, to access your account.
4. Privacy policies: Check the betting site's privacy policy to understand how they handle and store your data. Look for transparent websites that prioritize your privacy.
5. Reputation and reviews: Research the betting site's reputation and read reviews from other users to understand their track record in terms of security and payment reliability.
Fact: Reputable betting sites invest in robust security measures to ensure the safety of their users' funds and personal information.
What Payment Options are Available on Irish Betting Sites?
The payment options on Irish betting sites include:
Debit/Credit Cards: Most Irish betting sites accept Visa and Mastercard. This is a convenient and widely accepted payment method.

E-wallets: PayPal, Skrill, and Neteller are commonly accepted on Irish betting sites. They provide quick and secure transactions.

Bank Transfers: Some sites offer the option of bank transfers for deposits and withdrawals. This method may take longer but is reliable and trusted.

Prepaid Cards: Certain Irish betting sites accept prepaid cards like Paysafecard. These cards can be purchased in advance and used for online transactions.

Mobile Payment: Some Irish betting sites offer mobile payment options like Apple Pay or Google Pay, allowing users to pay directly from their mobile devices.
Checking the specific payment options offered by each site is essential as some may have additional methods available. Consider factors like transaction fees, processing time, and any potential restrictions or limits that may apply to each payment option. What Payment Options are Available on Irish Betting Sites?
How Secure are Online Betting Transactions?
When it comes to online betting transactions, security is important. Users often wonder, "How secure are online betting transactions?" Well, online betting sites understand this concern and prioritize security measures. They use encryption to secure communication and data transmission, ensuring that sensitive information remains protected. Payment gateways partner with reputable sites to process transactions securely, further enhancing the level of security.
Established online betting sites proactively comply with regulations to prevent fraud and money laundering. By adhering to these regulations, they maintain a high standard of security. Many sites implement two-factor authentication, adding an extra layer of protection for users. This additional step ensures that only authorized individuals can access their accounts and place bets.
Online betting sites invest in a secure website infrastructure to safeguard against cyber threats. They understand that the digital landscape presents various risks, and they prioritize the protection of users' personal and financial information. While the sites do their part to enhance security, users also have a role to play. It is essential for users to take responsibility for their own security by regularly updating passwords, utilizing strong and unique passwords, and being cautious of phishing attempts.
Promotions and Bonuses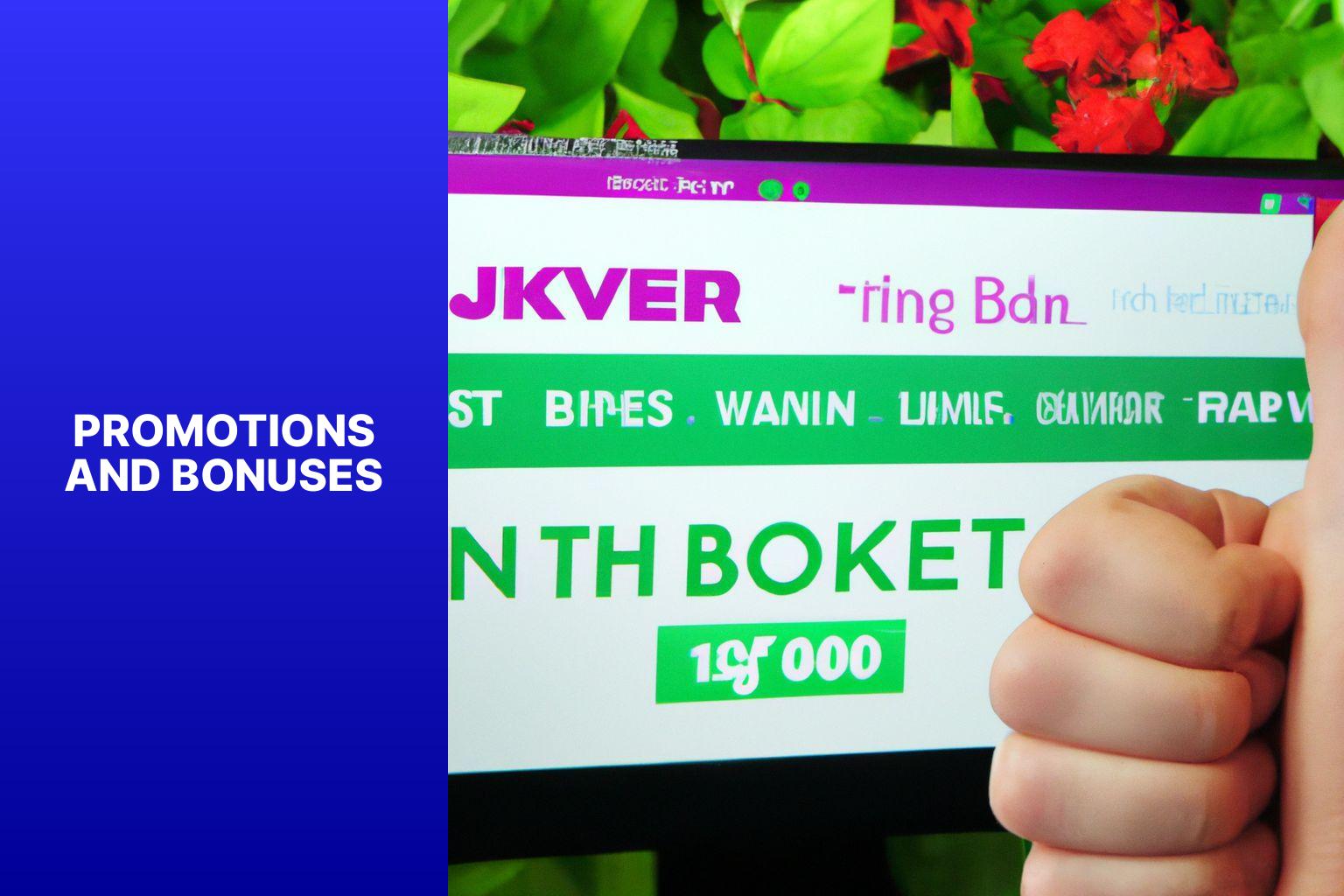 Photo Credits: Igame.News by David Martin
Promotions and Bonuses
Irish betting sites offer enticing deals to attract new customers and reward loyal ones. Key factors to consider include:
1. Welcome bonuses: Betting sites provide generous welcome bonuses to new users in the form of free bets or matching deposit bonuses.
2. Loyalty programs: Some sites have loyalty programs that reward players based on their activity, offering perks such as cashback on losses, free bets, or exclusive promotions.
3. Reload bonuses: Existing customers receive incentives in the form of reload bonuses when they make additional deposits, providing extra value to their bankroll.
4. Enhanced odds: Sites occasionally offer enhanced odds on specific events or matches, increasing potential winnings for successful bets.
5. Seasonal promotions: During major sporting events or holidays, special promotions and bonuses are offered, including enhanced odds, free bets, or prize giveaways.
What Types of Promotions do Irish Betting Sites Offer?
Irish betting sites offer a variety of promotions to enhance the betting experience for their customers. These promotions include a welcome bonus, free bets, enhanced odds, accumulator insurance, and loyalty programs.
The welcome bonus is a special offer for new players, where they can receive a match bonus or a free bet when they sign up. This provides them with extra funds to use for their bets and increases their chances of winning.
Free bets are another popular promotion offered by Irish betting sites. Players can use these bets without risking their own money, which gives them a risk-free opportunity to try out different betting options.
To help players win more, some sites provide enhanced odds for certain events. This means that the potential winnings for these events are increased, giving bettors a higher payout if their bet is successful.
Accumulator insurance is a unique promotion that benefits players who place accumulator bets. If one leg of their accumulator bet loses, they can receive a refund or a free bet. This helps to mitigate the risk of losing the entire bet and encourages players to try their luck with accumulators.
Loyalty programs are designed to reward players for their continued patronage. These programs offer perks such as enhanced odds, free bets, and exclusive promotions. This encourages players to stick with the betting site and enjoy additional benefits as they continue to place their bets.
In the past, online betting sites in Ireland only offered welcome bonuses. Due to increased competition in the market, these sites have expanded their range of promotions to cater to both new players and experienced bettors. These promotions add value to the betting experience and provide additional opportunities for players to win big.
Are There any Terms and Conditions for Bonuses?
When it comes to bonuses offered by betting sites in Ireland, players should be aware of the terms and conditions. These conditions ensure fair play and protect the interests of players and betting sites.
Bonuses are not free money. In order to withdraw them, certain requirements must be met. These requirements may include a minimum deposit, wagering requirements, or specific betting limits. It is important to read and understand these terms and conditions before accepting any bonus offer.
It is also worth noting that bonuses are often time-limited. They must be used within a certain period of time or they will be forfeited.
Some bonuses may only be available for specific games or betting markets. It is crucial to check if the bonus can be used for the type of bets you are interested in.
Before claiming any bonus, it is highly recommended to thoroughly read the terms and conditions. Pay close attention to the requirements, time limits, and any restrictions on the types of bets that can be made. It can be beneficial to compare bonuses offered by different betting sites to find the best value. It is always important to gamble responsibly and never bet more than you can afford to lose.
Responsible Gambling in Ireland
Responsible gambling is of utmost importance in the gambling industry in Ireland. In order to ensure a safe and enjoyable gambling environment, individuals must be conscious of their actions and take necessary steps to protect themselves.
The Irish government has taken significant measures to promote responsible gambling, such as the establishment of betting limits and the provision of resources for individuals struggling with gambling addiction. Gambling operators are required to have effective procedures in place to identify and prevent problem gambling.
Collaboration among individuals, the government, and gambling operators is essential to uphold responsible gambling practices in Ireland. It is crucial for individuals to be mindful of their gambling habits and seek assistance if necessary in order to maintain a healthy relationship with gambling.
What Measures are in Place for Responsible Gambling in Ireland?
Responsible gambling in Ireland is a top priority, and various measures are implemented to safeguard players. These measures include several key components.
To assist those struggling with gambling addiction, Irish betting sites offer self-exclusion programs. These programs allow individuals to voluntarily ban themselves from gambling, providing a much-needed opportunity for individuals to take a break and seek support.
Moreover, stringent age verification procedures are in place to prevent underage gambling. Irish betting sites require players to provide proof of age before creating an account and placing bets, ensuring that only those of legal age can engage in gambling activities.
In order to encourage responsible gambling practices, Irish betting sites also allow players to set limits. These limits include deposit limits, wagering limits, and session time limits, empowering individuals to control and monitor their gambling activities, which helps them avoid excessive betting.
Betting sites provide various responsible gambling tools to assist players in maintaining control over their habits. These tools encompass reality checks, time out periods, and access to gambling support organizations, all of which aid individuals in managing their gambling behaviors.
Irish betting sites are committed to providing education and information regarding responsible gambling. They furnish resources that outline problem gambling signs, responsible gambling charities, and helpline numbers for individuals seeking help.
Collaboration with gambling support organizations is another crucial aspect of responsible gambling in Ireland. Betting sites actively partner with organizations like Gambling Aware, working together to promote responsible gambling and provide support to those in need.
It is essential for individuals to be aware of these measures and utilize them in order to have a safe and responsible gambling experience in Ireland.
How Can Players Seek Help for Gambling Addiction?
Players seeking help for gambling addiction have several options available to them. Here are some steps they can take:
1. Seek professional help: It is important for players to reach out to licensed therapists or counselors who specialize in gambling addiction. These professionals can offer guidance, support, and personalized treatment options.
2. Join support groups: Support groups such as Gamblers Anonymous provide a safe environment for players to share their experiences and receive support from others who have faced similar struggles. These groups offer a sense of community and valuable encouragement and guidance.
3. Utilize helplines and online resources: Many countries, including Ireland, have dedicated helplines and online resources specifically for gambling addiction. Players can access information, advice, and support services through these helplines and websites.
4. Set financial limits: It is crucial for players to set strict financial limits to prevent excessive gambling spending. This involves creating a gambling budget and avoiding the use of credit cards or loans for gambling purposes.
5. Practice self-exclusion: Players can take advantage of self-exclusion programs offered by betting sites and casinos. These programs allow individuals to voluntarily ban themselves from gambling establishments and websites, either for a specific period or indefinitely.
6. Involve family and friends: Open communication with loved ones can provide players with additional support. Family and friends can offer emotional support, assist with financial management, and create a supportive environment for recovery.
7. Stay focused on recovery: Players must remain committed to their recovery journey. This may involve avoiding triggers, engaging in healthier hobbies and activities, and maintaining a balanced lifestyle that promotes overall well-being.
Remember, seeking help for gambling addiction is a critical step towards recovery. By taking proactive measures and making use of available resources, players can regain control of their lives and overcome this addiction.
Some Facts About Betting Sites in Ireland: Your Irish Betting Guide:
✅ Choosing the best betting site depends on personal preferences and needs, such as the sports you like to bet on, generous welcome offers, value odds, promotions, etc. (Source: Our Team)
✅ Guides are available to help select the best betting sites for different sports, special promotions, minimum deposits, withdrawal times, mobile app performance, and support contact methods. (Source: Our Team)
✅ Some people may prefer a site that offers a simple way to bet multiples, like the Lucky15 or Football Accumulator, while others may look for odds boosts or bonuses for getting multiple selections right in a bet. (Source: Our Team)
✅ Betting site reviews and guides provide more in-depth information to help users find the site that suits their needs. (Source: Our Team)
✅ For those specifically interested in the best welcome offers or biggest free bets upon sign up, the free bets page can be used to compare offers from recommended online bookmakers. (Source: Our Team)