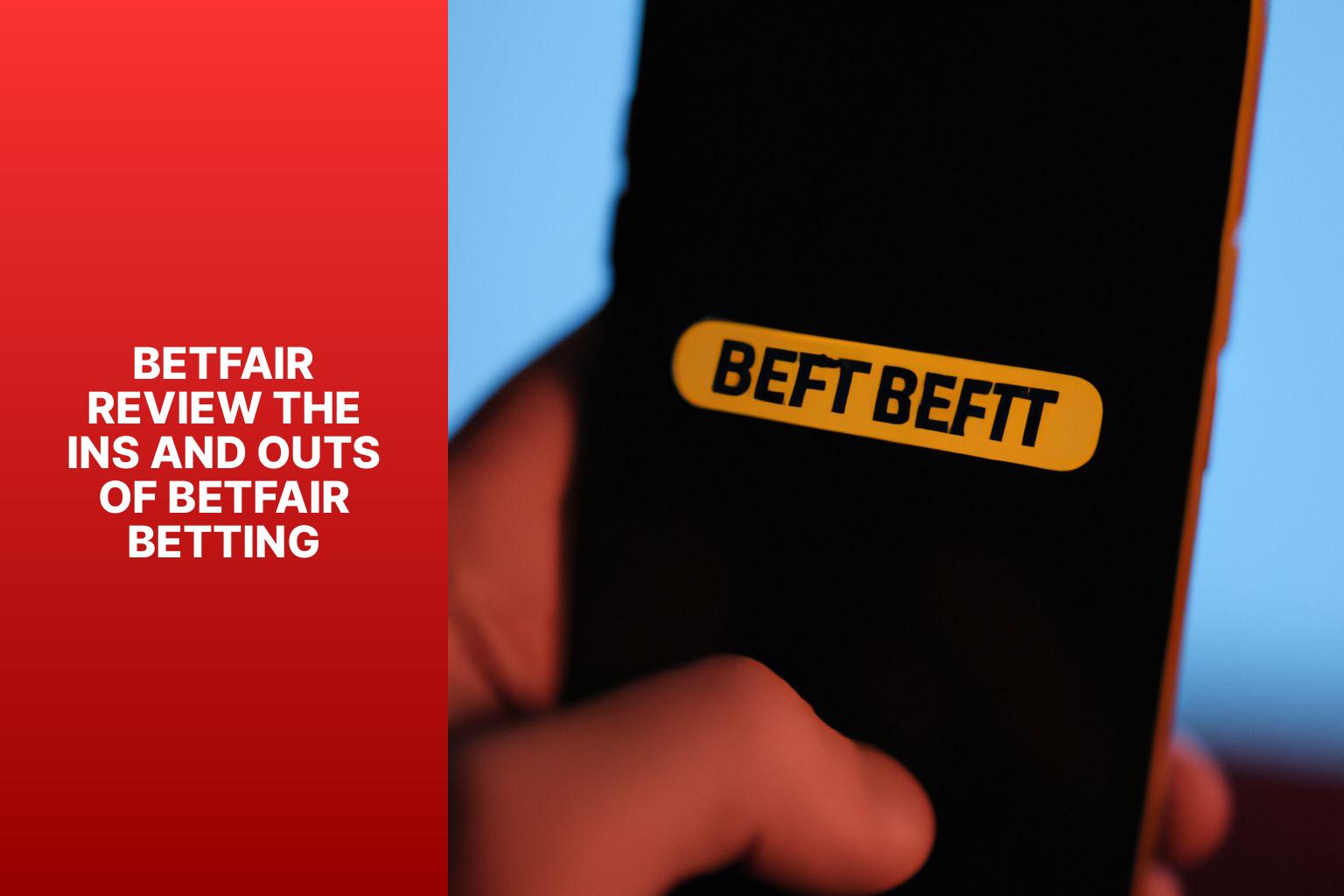 Betfair is a popular online betting platform that offers a unique and innovative approach to sports betting. In this comprehensive Betfair review, we will delve into the ins and outs of Betfair betting to provide you with a complete understanding of how it works, the types of bets available, and the benefits it offers.
Betfair is a betting exchange where users can both back and lay bets, creating a dynamic marketplace for sports enthusiasts. How does Betfair work, you may ask? Well, it operates on the principle of matching bets between users, eliminating the need for a traditional bookmaker.
When it comes to types of bets on Betfair, there are two main categories: back bets and lay bets. Back bets are the traditional wagers where you bet on a selection to win, while lay bets involve betting against a selection, essentially acting as the bookmaker.
One of the key benefits of Betfair betting is the availability of better odds compared to traditional bookmakers. As a betting exchange, Betfair creates a competitive marketplace where users set their own odds, resulting in higher potential returns. Betfair offers a unique betting exchange feature, allowing users to act as bookmakers themselves and offer odds to other users.
Another advantage of Betfair is the option for in-play betting, which allows users to place bets during live sporting events. This real-time betting experience adds excitement and opportunities to capitalize on changing circumstances.
Getting started with Betfair is a straightforward process. Users need to create an account, deposit funds, and navigate the user-friendly interface to place bets. Understanding the Betfair commission structure is also crucial, as the platform charges a commission on net winnings for most users.
To make the most of Betfair betting, employing tips and strategies is essential. Conducting thorough research and analysis of sports events, as well as practicing proper bankroll management, can greatly enhance your chances of success.
It is equally important to be aware of common mistakes to avoid on Betfair, such as chasing losses or placing impulsive bets without proper research.
You may wonder about the safety and legality of Betfair betting. Rest assured, Betfair is a reputable and licensed operator in many jurisdictions, ensuring a secure and regulated betting experience.
With this comprehensive Betfair review, you will have a solid understanding of the platform's workings, its benefits, and how to navigate Betfair effectively to enhance your betting experience.
Key takeaway:
Betfair maximizes betting opportunities: Betfair offers a wide range of betting options, allowing users to explore different types of bets and opportunities for better odds.
Betfair provides a betting exchange platform: With Betfair, users can become both a bettor and a bookmaker, enabling them to set their own odds and trade their bets for potential profits.
Betfair offers in-play betting: The ability to place bets during a live event gives users the advantage of adjusting their strategies based on real-time developments, enhancing the excitement and potential profitability of betting.
What is Betfair Betting?
What is Betfair Betting?
Betfair Betting is an online platform for placing bets on sports events. It functions as a betting exchange, allowing users to back (bet for) or lay (bet against) outcomes. This unique feature sets Betfair apart from traditional bookmakers and offers better odds and higher potential winnings by matching bets from different users. Betfair also allows in-play betting during live sporting events, providing excitement and the opportunity to take advantage of changing circumstances.
It's important to note that Betfair Betting charges a commission on net winnings, which is a small percentage of the profit made. This commission is how Betfair generates revenue.
To increase your chances of success, it's crucial to understand the betting market and develop a strategy. Research the sports you want to bet on, understand the odds, and manage your bankroll wisely. By being knowledgeable and disciplined, you can make the most of your Betfair Betting experience and potentially earn significant profits.
How Does Betfair Work?
Betfair is a popular betting platform that functions as a betting exchange. Users bet against each other instead of a bookmaker, providing better odds and more flexibility. Wondering how does Betfair work?
To use Betfair, users create an account and deposit funds. Once logged in, they can browse through various markets and events to find a bet.
There are two types of bets on Betfair: back bets and lay bets. A back bet is when users bet that an outcome will happen, while a lay bet is when users bet against an outcome.
One benefit of Betfair is the betting exchange feature, which allows users to set their own odds and potentially get better odds compared to traditional bookmakers. So, how does Betfair work exactly? It's simple, users can place bets on both sides of an outcome, acting as either a punter or a bookmaker.
The platform also offers in-play betting, allowing users to place bets during ongoing games or events. With Betfair, you can bet while the game is happening.
To succeed on Betfair, users should conduct thorough research and analysis before placing bets. They should also practice good bankroll management and only bet with money they can afford to lose. By following these strategies, users can make the most out of how Betfair works.
In terms of safety and legality, Betfair is a licensed and regulated platform, ensuring a secure betting environment for its users. So, now that you know how Betfair works, you can confidently enjoy the betting experience it offers.
Types of Bets on Betfair
Discover the exciting world of Betfair betting and dive into the different types of bets available on this renowned platform. From back bets to lay bets, we'll explore the intricacies of each sub-section, uncovering the unique strategies and potential rewards associated with them. Whether you're a seasoned bettor or a newcomer, understanding these bet types will arm you with valuable knowledge for making informed decisions and maximizing your betting experience on Betfair.
1. Back Bets
Back Bets are a common type of bet on Betfair. You bet on a selection to win. You can choose the odds you want to back the selection at. If your selection wins, you receive your stake multiplied by the odds. When placing a back bet, you are essentially betting on an outcome to happen. Back bets are popular because they offer the chance to profit if your selection wins, without the risk of losing your stake if the selection doesn't win. Before placing a back bet, assess the probability of your selection winning and the value of the odds offered.
Pro-tip: Analyze the form, statistics, and other relevant factors before placing a back bet. Don't rely on gut feelings or hunches. This will increase your chances of making successful back bets and maximizing your profits.
2. Lay Bets
Lay bets are a feature available on the Betfair platform. When you place a lay bet, you are essentially betting against a particular outcome. For instance, if you believe that a specific team will lose a match, you can opt to lay a bet on that team. In the event that the team ends up losing or the match ends in a draw, your lay bet will be successful. If the team wins, unfortunately, your lay bet will be deemed unsuccessful.
What's interesting about lay bets is that they allow you to take on the role of a bookmaker by setting your own odds and accepting bets from other users. This means that you can potentially make a profit by accepting back bets, which are bets made on a specific outcome. When placing a lay bet, it is essential to specify the odds at which you are willing to offer the bet. If someone agrees to your odds and places a back bet against your lay bet, a match will be made, and the bet will become active. On the other hand, if no one accepts your offered odds, your lay bet will remain unmatched and subsequently cancelled.
Betfair Betting: Where better odds and a twisted sense of humor come together for your entertainment.
Benefits of Betfair Betting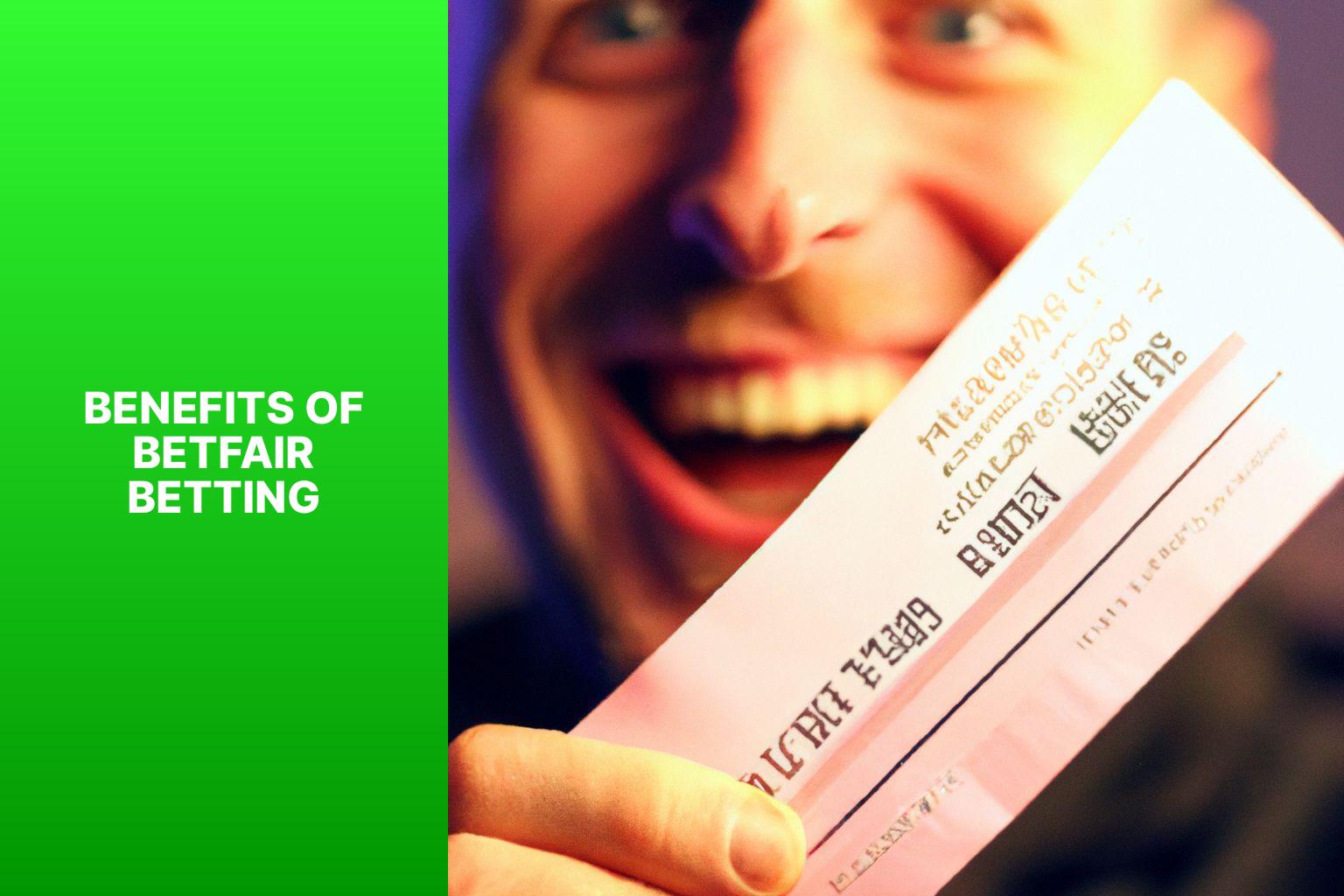 Photo Credits: Igame.News by Charles Lewis
Discover the amazing rewards of Betfair betting, where your chances are boosted and the possibilities are endless. Unleash your inner punter and enjoy the benefits that await you. From better odds that give you an edge to the exciting world of betting exchange where you can bet against fellow enthusiasts, and not to forget the thrill of in-play betting that keeps you at the edge of your seat. Don't miss out on the advantages that Betfair betting brings to the table!
1. Better Odds
Betfair's "1. Better Odds" sub-topic provides several advantages for bettors:
Better odds: Betfair offers higher odds than traditional bookmakers because it operates as a betting exchange. Users can set their own odds, resulting in better odds for various sports and events.
Increased profit potential: Better odds on Betfair mean a higher potential for profit compared to other bookmakers.
Competitive marketplace: Betfair's betting exchange creates a competitive marketplace where users can place bets and trade positions. This allows bettors to negotiate and find the best odds for their desired outcome.
Opportunity for lay betting: Betfair allows lay betting, where users can bet against a particular outcome. This opens up additional opportunities to find better odds and potentially profit from unlikely outcomes.
Andrew Black and Edward Wray introduced the concept of a betting exchange in 2000. Their goal was to disrupt the traditional bookmaking industry and offer better odds to bettors. Betfair was launched in June 2000 and quickly gained popularity due to its unique betting exchange model. Over the years, Betfair has expanded its offerings to include various sports and events, making it a go-to platform for bettors seeking better odds and increased profit potential. Today, Betfair remains a leading player in the online betting industry, continuously innovating and evolving.
2. Betting Exchange
The betting exchange is a prominent feature of Betfair, offering distinct advantages over traditional bookmakers. Here are some key points about the betting exchange:
1. Peer-to-Peer Betting: With the betting exchange, users can engage in peer-to-peer betting, enabling them to back and lay bets. This feature provides greater flexibility in betting strategies.
2. Enhanced Odds: The betting exchange often presents improved odds when compared to traditional bookmakers. This is because the market determines the odds, ensuring more competitive prices instead of being set by a bookmaker.
3. Bet Size Flexibility: On the betting exchange, users have the freedom to determine their own bet size. They can either accept the available odds or request their own odds, waiting for another user to match their bet. This level of control enhances the betting experience.
4. Trading Opportunities: The betting exchange facilitates trading, enabling users to both back and lay bets in order to secure profits or minimize losses. This feature is particularly advantageous for in-play betting, where odds tend to fluctuate rapidly.
5. Diverse Range of Markets: The betting exchange offers an extensive selection of markets across various sports and events. Users can access both popular and niche markets, opening up numerous betting opportunities.
By utilizing the betting exchange feature on Betfair, bettors can benefit from improved odds, increased flexibility, and the opportunity to engage in trading. This unique platform creates an interactive and captivating betting experience for users.
Strap in for the roller coaster of emotions that is in-play betting, where every goal, card, and missed opportunity will make your heart skip a beat.
3. In-Play Betting
In-play betting, also known as live betting, is a highly popular feature on Betfair. This exciting betting option allows you to wager on ongoing sports events in real-time. By taking advantage of the constantly changing odds and accessing up-to-date information, you can make well-informed decisions.
Bet on various aspects of the game, including the final outcome, number of goals, scorers, and many more. In-play betting empowers you to react and adapt your strategy based on the game's ebb and flow.
To engage in in-play betting on Betfair successfully, it is crucial to stay updated with the game's progress and relevant statistics. Make use of Betfair's live streaming and data visualization features to gain valuable insights.
The following tips can help you maximize your chances of winning:
– Pay close attention to the match tempo and momentum shifts as they can be indicators of future outcomes.
– Keep an eye on any player injuries or suspensions as they can significantly impact the game.
– Utilize the cash-out option to secure profits or minimize losses based on the progress of the game.
– Start with smaller bets initially to gauge the game's direction before committing larger amounts.
– Follow expert analysis and insights for a broader perspective on in-play betting opportunities.
By effectively utilizing in-play betting, you can elevate your overall betting experience on Betfair and potentially increase your chances of success.
How to Get Started with Betfair?
Are you ready to dive into the world of Betfair betting? In this section, we'll show you the ropes and get you started on your betting journey. From creating an account to managing your funds, we've got it all covered. So buckle up and get ready to make your first moves in the exciting realm of Betfair. Let's get started!
1. Creating an Account
Creating an account on Betfair is a simple process. To get started, follow these steps for account creation:
1. Go to the Betfair website.
2. Look for the "Join Now" or "Sign Up" button.
3. Enter the necessary personal details, such as your name, date of birth, and email address.
4. Set up a username and password for your account.
5. Select a security question and provide an answer to enhance the security of your account.
6. State your country of residence and preferred betting currency.
7. Agree to the terms and conditions specified by Betfair.
8. If needed, complete any additional verification procedures.
9. Submit your registration and patiently wait for a confirmation email from Betfair.
10. Access the confirmation email and click on the provided link to verify your account.
11. After verification is complete, log in to your Betfair account and start placing bets.
Please keep in mind that you must be of legal gambling age in your area to create a Betfair account.
2. Depositing and Withdrawing Funds
To deposit and withdraw funds on Betfair, follow these steps:
Login to your Betfair account.
Click "My Account" at the top right corner of the screen.
Select "Deposits & Withdrawals" from the dropdown menu.
To deposit funds, click "Deposit".
Choose your preferred payment method (e.g., credit/debit card, bank transfer, or e-wallet).
Enter the amount you want to deposit and follow the prompts to complete the transaction.
To withdraw funds, click "Withdraw".
Select your preferred withdrawal method and enter the amount you want to withdraw.
Follow the instructions to complete the withdrawal process.
Note that Betfair may require verification documents before processing your withdrawal.
Keep in mind that deposit and withdrawal methods may vary depending on your location. Betfair may also impose limits or fees, so review the terms and conditions or contact customer support for more information.
Understanding Betfair Commission: Where your money goes when you lose, but let's not dwell on that.
Understanding Betfair Commission
Understanding Betfair Commission is important when betting on the platform. Betfair charges a commission on net winnings for each bet placed on their betting exchange. The commission rate is determined based on a tiered system, with higher volumes resulting in lower rates. As bet volumes increase, the commission rate decreases.
For example, if you have £1000 in net winnings, the commission rate is 5%, resulting in a commission payment of £50. If winnings increase to £5000, the commission rate decreases to 4%, resulting in a commission payment of £200.
Commission is only charged on net winnings, not on losing bets. This means that if you have a net loss on your bets, no commission will be charged.
Understanding the Betfair commission structure allows bettors to calculate their potential costs and make informed decisions when placing bets. It is advisable to consider the commission rates when comparing odds and choosing the best betting options on the platform.
By understanding Betfair commission, bettors can effectively manage their finances and optimize their betting strategies for maximum profitability.
Tips and Strategies for Successful Betfair Betting
Discover effective tips and strategies for maximizing your success when it comes to Betfair betting. With a focus on research, analysis, and meticulous bankroll management, this section provides invaluable insights for placing smart bets. Whether you're a seasoned bettor or just starting out, these proven methods will help you make informed decisions and enhance your chances of winning big on the Betfair platform. Stay ahead of the game and unlock the secrets to successful betting.
1. Research and Analysis
Research and analysis play a pivotal role in successful Betfair betting. By conducting comprehensive research and thorough analysis of data and information, bettors can make well-informed decisions and enhance their chances of winning.
To effectively analyze the data, bettors should employ a range of strategies and techniques. One approach involves studying the past performance and statistics of teams, players, or horses. This entails scrutinizing historical data, form guides, head-to-head records, and other pertinent information.
Staying abreast of current news and developments is also vital for research and analysis. This entails keeping an eye on team injuries, weather conditions, and other factors that could potentially influence the outcome.
Through meticulous analysis and interpretation of data, bettors can identify trends, patterns, and potential value bets. This enables them to make calculated and strategic decisions, instead of relying solely on luck.
Bettors should consistently evaluate and modify their strategies based on the outcomes of their research and analysis. This continual process enables them to enhance and refine their betting strategies.
2. Bankroll Management
Bankroll management is a crucial aspect of successful betting on Betfair. When it comes to bankroll management, there are several key points to keep in mind. It is important to set a budget and determine the amount of money that you will allocate for your betting activities. This approach will not only help you avoid overspending but also prevent any financial problems that may arise. Secondly, bet sizing is another crucial factor in bankroll management. It is recommended to bet a small percentage of your total bankroll on each wager. This strategy minimizes the risk of significant losses. Keeping track of your bets is essential. It is important to maintain a record of all your bets, including the amount wagered, odds, and outcomes. This record will allow you to analyze your betting patterns and identify areas for improvement. Managing your emotions is another vital aspect of bankroll management. It is essential to avoid making impulsive decisions based on emotions and instead stick to your predetermined betting strategy. Understanding the risk and expected return of each bet is crucial. Before placing any wager, it is important to evaluate the potential risks and rewards. This evaluation should consider the probability of winning, potential payout, and overall value of the bet. By following these key points, you can maximize your chances of long-term success in Betfair betting. In fact, a study shows that bettors who focus on bankroll management and employ sound betting strategies are more likely to achieve consistent profits in the long run.
Don't bet your money on spelling mistakes, unless your goal is to lose.
Common Mistakes to Avoid on Betfair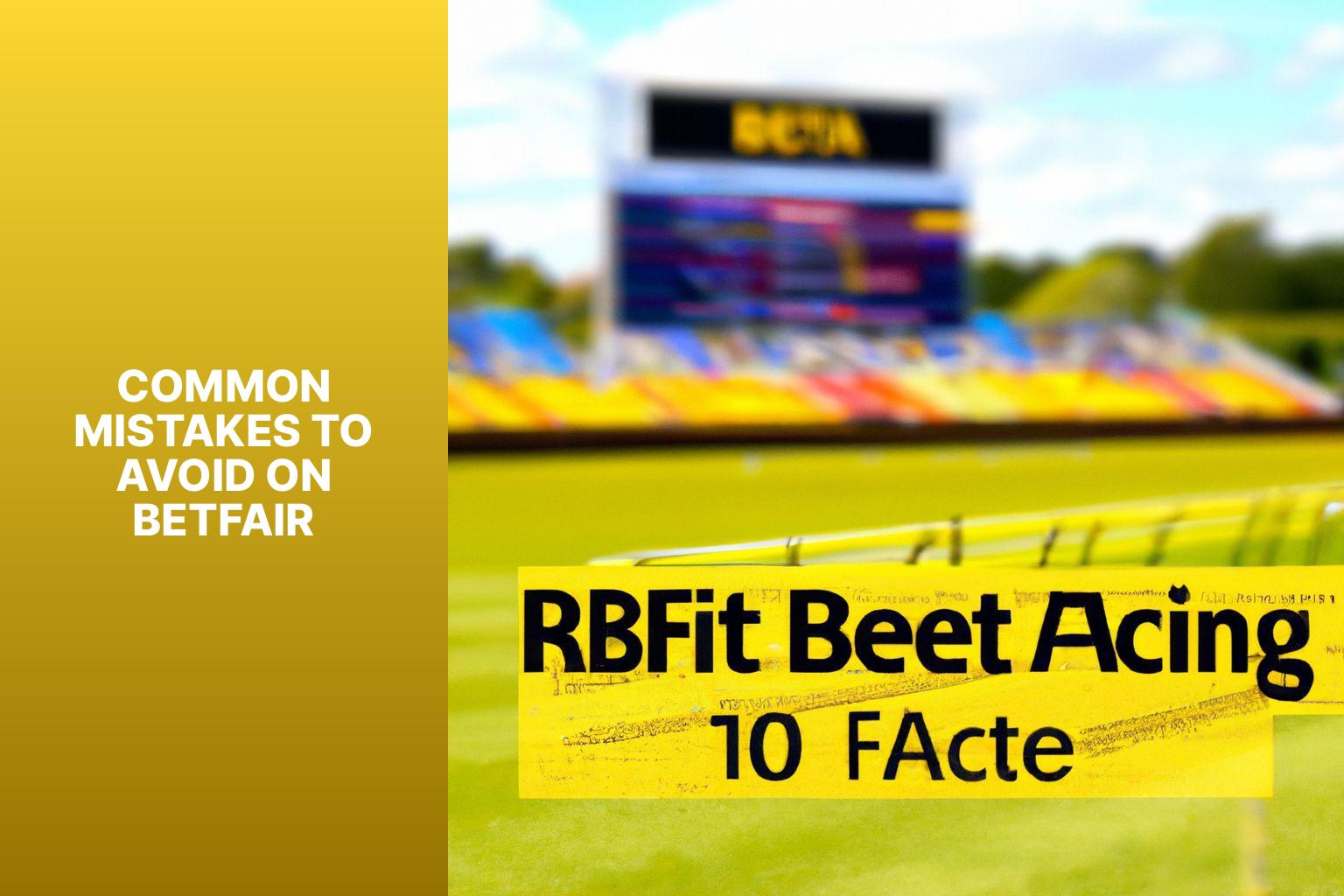 Photo Credits: Igame.News by Randy Carter
When utilizing Betfair, it is crucial to steer clear of common mistakes that have the potential to negatively impact your betting experience. Here are some key points to keep in mind:
– Establish a budget: It is essential to set a specific budget for your betting endeavors and adhere to it. By doing so, you can prevent overspending and refrain from experiencing financial stress.
– Avoid chasing losses: One should avoid the error of increasing their bets in an attempt to recover previous losses. This approach can result in even more significant losses and is not a sustainable strategy.
– Conduct thorough research and analysis: Take the time to gather relevant information about the teams, players, or events you plan to bet on. This comprehensive research will enable you to make well-informed decisions.
– Effectively manage your bankroll: It is imperative to wager a consistent and controlled percentage of your total betting funds on each bet. Ignoring this strategy can lead to recklessness and potential losses.
– Practice patience: Exercise patience when betting, and wait for favorable opportunities. Avoid making impulsive decisions driven by emotions.
By avoiding these common mistakes, you can enhance your betting experience on Betfair and increase your chances of success.
Is Betfair Betting Safe and Legal?
Is Betfair Betting Safe and Legal?
Betfair betting is not only safe, but also legal.
It operates under the licenses and regulations of reputable gambling authorities, which ensure a secure and fair betting environment.
To protect customers' personal and financial information, Betfair utilizes state-of-the-art encryption technology, safeguarding it from any unauthorized access.
In addition, Betfair stands by responsible gambling by allowing users to set limits on their betting activities.
It is important to note that users must meet the legal gambling age requirement in their jurisdiction to access the platform.
Due to Betfair's strong commitment to legal compliance and customer safety, it is widely recognized as a trusted and reliable betting platform.
Some Facts About "Betfair Review: The Ins and Outs of Betfair Betting":
✅ Betfair started as a betting exchange in 2000 and added a traditional sportsbook in 2012. (Source: Our Team)
✅ Betfair is now the largest betting exchange on the internet with four million customers. (Source: Our Team)
✅ Betfair has received several awards for its innovation and international trade. (Source: Our Team)
✅ Betfair offers both a betting exchange and a traditional sportsbook. (Source: Our Team)
✅ Betfair is known for its high payouts and fast payments. (Source: Our Team)